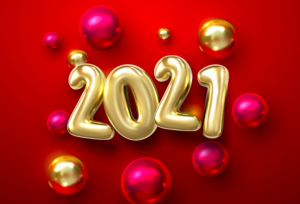 Members of House Sex Work Commission critical of both process and final report Link
Sex Workers Zoom Bombed at December 17th – International Day to End Violence Against Sex Workers
Sex Worker Groups Across America Came Together To Commemorate the International Day to End Violence Against Sex Workers on December 17th Only to be Victims of Online Sexual Violence. link
International Day to End Violence Against Sex Workers link
Recent prostitution raids demonstrate how anti-prostitution rhetoric harms victims– July 8th, 2021
Coalition condemns Cranston Police's perpetuating anti-Asian violence and whorephobia by charging 11 alleged sex trafficking victims and calling it "rescue"  June 25th, 202
Open Letter to Senator Sheldon Whitehouse– June 30th, 2020
COYOTE RI Stands in Solidarity with #BlackLivesMatter June 2020
 International Day to End Violence Against Sex Workers Press release December 17th, 2019
House Judiciary Committee hearing on H5354- starts around the 1-hour mark
Critics of criminal prostitution laws urge changes at R.I. House hearing  –April 30th, 2019
Bella Robinson on Sex Trafficking Inside the Trump Campaign -Feb 22st, 2019
The new bill proposes studying sex worker safety- February 14th,2019
Lawmaker proposes studying whether to decriminalize sex work- February 13th, 2019
Bella Robinson – Executive Director COYOTE RI – Decriminalizing sex work.  Interview with the Matt Allen radio show
Representative Williams' bill would establish a commission to study the decriminalization of prostitution -February 12th, 2019
ADVOCACY GROUPS SUPPORT NEW BILL THAT WOULD CREATE A LEGISLATIVE COMMISSION TO STUDY THE HEALTH AND SAFETY IMPACT OF SEX WORK LAWS- February 12th, 2019
Representative Williams' bill would establish a commission to study the decriminalization of prostitution -February 12th, 2019
Opposing RI S0096 (The Adult Entertainment Performance Tax)
Former Sex Trafficking Victim, Thomia Hunter Granted Clemency, After Serving Life Sentence For Killing her Trafficker.- February 6th, 2019
They're Running! Announcing The Historic Petunia/Mrs. Robinson 2020 Campaign -January 14th, 2019
The Uprising, December 21, 2018
Letter Condemning the City of Providence Police Department's Raid on the Foxy Lady and Arrests of Sex Workers
The Foxy Lady, iconic New England strip club, shut down days before Christmas rush -December 21st, 2018
Well-known strip club loses license while 100s lose jobs- December 20th, 2018
Providence Liquor Board votes to shut down Foxy Lady -December 19th, 2018
Over 200 jobs lost as Providence Board of Licenses votes to close Foxy Lady- December 19th, 2018
Advocacy group calls for Foxy Lady prostitution charges to be dropped– December 19th, 2018
City strips Foxy Lady of licenses-  December 19th, 2018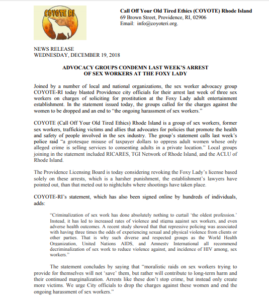 COYOTE RI observes the International Day to End Violence Against Sex Workers- December 18th, 2018
COYOTE RI: Letter Condemning the Providence Police Department's Raid on the Foxy Lady and Arrests of Sex Workers -December 14th, 2018
WHAT IS ZINE? BY COYOTE (SLIDESHOW)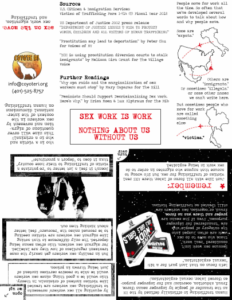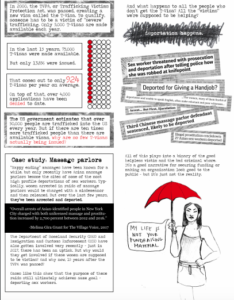 Anti Prostitution Lobby Attacks John Jay College Professors to Discredit their Research.- Oct 7th, 2018
Texas Christian University Presentation by Coyote- Sept 2018
How Abolition gets Trafficked 2018
Seven Police Officers Charged with Running Eight NY Brothels- Sept 16th, 2018
Investigating Drug Stigma and the Fake Hysteria Created by Prisons so they can Increase their Profits. Sept 16th, 2018
WAVAW- To The Sex Worker Community – We Owe You An Apology– August 8th, 2018
SESTA/FOSTA = DEATH #AIDS2018–  July 28th, 2018
WHAT TO DO AT AN ICE CHECKPOINT: ESPECIALLY IF YOU'RE A WHITE CITIZEN– July 3rd, 2018
Watch Out Congress, US Sex Workers are Coming for Their Rights--June 29th, 2018
Crockor @CrockorUS to the Rescue– June 11th, 2018
Providence rallies against criminalization- June 4th, 2018
International Sex Workers Day in RI- June 2nd, 2018
Pedophile Files- May 28th, 2018
Sex Trafficking and the Sex Industry in the United States– May 28th, 2018
Policing Modern Day Slavery 2014-2016–  May 28th, 2018
The US Fails to Protect Undocumented Kids from Exploitation-May 27th, 2018
Best Practices for Connecting "People Involved in the Sex Industry" with Services by Coyote RI
After Fosta, It's like Hunger Games on Sex Workers– May 22st, 2018
"Take Back the Neighborhood: Rally Against Criminalization" May 19th, 2018
Travel Advice For Sex Workers & Models –May 11th, 2018
New Posting Options List- Tool Kit- By Coyote RI– April 11th, 2018
After FOSTA- Many of the Systems and Institutes that are Supposed to Protect us are Sent to Erase us–  April 7th, 2018
US Sex Workers Affected #AfterFosta- Next Steps– March 23rd, 2018
FOSTA Passes in the Senate: CityVibe & The Erotic Review Shuts Down– May 22st, 2018
Whitewashing Abolition: Race, Displacement, and Combating Human TraffickingMarch 21st, 2018
Righting Carceral Feminism's Wrongs in a #MeToo Era  March 3rd, 2018
What Everyone Can Learn from Sex Workers About How to Screen DatesMarch 3rd,  2018
Coyote RI Supports #SheDecidesMarch 2st, 2018
International Sex Worker Rights Day- March 3rd, 2018- Feb 28th, 2018
Sex Workers Oppose HR 1865--Feb 23rd, 2018
In Support of NH HB 287- AN ACT Establishing a Committee to Study Issues Related to Changing Prostitution Laws in New Hampshire. Feb 2st, 2018
Sex Trafficking Inside the Trump Campaign- This is not Fake News -Feb 15th, 2018
They Don't Want to Include Women Like Me.' Sex Workers Say They're Being Left Out of the #MeToo Movement -Feb 13th, 2018
 Sex Workers Decry 'Moral Panic' Over Human Trafficking by Victoria Mckenzie-Feb 2st, 2018
Addressing Propaganda on Super Bowl Sex Trafficking-2018
Sex Workers Decry 'Moral Panic' Over Human Trafficking by Victoria Mckenzie-Feb 13th, 2018
Update from the Ninth Circuit ESPLERP v GASCON (#16-15927) Jan 2018
Women March Rhode Island Includes Sex Workers #WMWRI18 -Jan 20th, 2018
Las Vegas Women's March Includes Sex Workers- 2018
'We're sex workers and we vote': Women's March event shines light on a marginalized group -Jan 21st, 2018
Best Practices for Connecting "People Involved in the Sex Industry" with Services by Coyote RI -Jan 6th, 2018
Sex Trafficking and the Sex Industry in the United States 2017 
International Day to End Violence Against Sex Workers 2017   Uprise RI Dec 19th, 2017
International Day To End Violence Against Sex Workers- 2017- Coyote RI-2017
ESPLER v GASCON UPDATE- Oct 10th 2017
FOR IMMEDIATE RELEASE October 4, 2017
Criminalized Survivors Panel at No Perfect Victims Convening 2017
Survived & Punished Project
Bella Robinson – Framing the narrative- No Perfect Victims
COMPLETE INTERVIEW WITH BELLA ROBINSON- COYOTE RI
Policing Modern Day Slavery 2014-2016
Trending Globally: Politics and Policy – Episode 4 – Sex Work Is Work- Dec 2016
Sex workers' rights activist Bella Robinson (Coyote RI)  and sociologist and Watson postdoctoral fellow Elena Shih discuss the "trafficking" and "rescue" narratives muddying the reality of what sex work is–and what sex workers really need.
Providence vigil remembers sex workers lost to violence  December 17th, 2016
Violence against sex workers a result of criminalization- December 18, 2016
International Day To End Violence Against Sex Workers event in Providence, Rhode Island was a huge success despite the heavy snow and horrible weather.
February 18th- 21st 2016, Join Bella Robinson, executive director of CoyoteRI (Call Off Your Old Tired Ethics), at Liberty Forum for a discussion of decriminalizing prostitution to support the rights of sex workers and as a way to reduce harm to women engaged in sex work.
DayOne peddling ineffective and costly sex trafficking programs By Bella Robinson on March 6, 2016
To combat underage prostitution we need facts, not myth By Bella Robinson on March 8th, 2016
Bella Robinson: A Call to Action December 15th, 2016  
DayOne peddling ineffective and costly sex trafficking programs By Bella Robinson on March 6, 2016  
Rhode Island Human Rights Activist To Testify In Support Of New       Hampshire Decriminalization of Prostitution Legislation  Jan/2016