Resources – COYOTE RI
Coyote RI support-line 401-525-8757 
COVID-19 Sex Worker Harm Reduction Resources (U.S. Based)
Where to get contraceptives after your employer (and the Supreme Court) refuses to give them to you July 2020
PrYsm's Cop watch- know your rights training June 2020
How to Become a Camgirl- May 2020
How to file for unemployment in RI – Slide-show
 AMOR's COMMUNITY RESOURCES DOCUMENT-2020
COVID 19 Community Info Sheet_korean YC
Notes on Coronavirus and Sex Work Part 01- Sex Workers are Advised as a Minimum to Take the Same Precautions as Health Workers
Coronavirus (COVID-19) Update and Thorough Guidance
Online therapy with sex worker positive therapist
Lotus Noire Health online sexual health and testing services
NEW LIST of Posting Options- TOOL KIT APRIL 2018
Safe Connectivity & Tec Tips for Domestic Violence Victims & Sex Workers
List of sex-worker positive attorneys
List of sex-worker positive attorneys
Sex Work vs Trafficking- SWOP Behind Bars
Impacts of Criminalization on Trafficking- SWOP Behind Bars
Harm Reduction SWOP Behind Bars
Sex Trafficking Interview- SWOP Behind Bars
Texas Christian University Presentation by Coyote
WHAT IS ZINE? BY COYOTE  (SLIDESHOW)
Guide to Responding to Reporter Requests 
The Empowering Internet Safety Guide for Women
Psychiatry Today On FOSTA/SESTA: What Mental Health Professionals Need To Know- July 18th, 2018
SOCIAL WORK MUST SIT WITH DISCOMFORT, STAND WITH SEX WORKERS-
NATIONAL SEX WORKER ANTI-CRIMINALIZATION PRINCIPLES JUNE 23RD 2018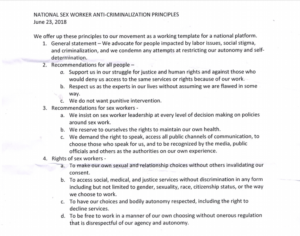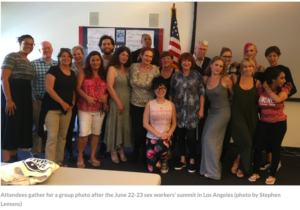 Sex Trafficking and the Sex Industry in the United States-2017
Policing Modern Day Slavery 2014-2016
Escorts: Why it's Important to Read Terms of Use & Privacy Policies
SAFER BORDER CROSSING; TIPS FOR SEX WORKERS
Guide to Responding to Reporter Requests 
Guide to Getting Stories You Care About Told
10 Reasons to Decriminalize Sex Work
The Global Commission on HIV and the Law: Sex Workers
Human Trafficking and Sex Workers' Rights
After FOSTA- Many of the Systems and Institutes that are Supposed to Protect us are Sent to Erase us  NEW LIST April 6th, 2018
If you know of resources that should be included here, please send us email info@coyoteri.org Thanks!
Local resources. This list includes public services and several local nonprofit service providers. Some organizations are part of the RI trafficking task force. Please use this list at your discretion.  If you are a local sex worker in crisis please contact Bella Robinson 401-525-8757 or call SWOP USA support line  877-776-2004
COYOTE RI- SERVICES
Coyote RI provides support to sex workers and trafficking victims, to include providing non-judgmental and compassionate crisis management services.  Coyote provides support services to incarcerated sex workers and we provide case managers to help sex workers access reentry services upon their release.
Coyote strives to provide adequate resource referrals to sex workers.  We have documented the discrimination that sex workers endure when trying to access public services.   We continue to educate service providers and government officials about the best way to help connect  "people involved in the sex industry" to services.
Starting in August 2017 Coyote RI will be providing free HIV & Hep C testing, and condom distribution to sex workers and to the general public.
Coyote strives to reduce stigma and violence against sex workers and we lobby for policies that promote the health and safety of sex workers.  We acknowledge that sex work is an acceptable form of labor.   We recognize that the criminalization of prostitution is a form of state-sponsored violence and systemic oppression against a highly marginalized population.
Coyote is also one of the 6 local organizations that created the AMOR network, which is a coalition of directly affected people and "people of color" led organizations, building a Rapid Resistance Network to protect our community.
Impacts of Criminalization on Trafficking
Sex Trafficking Interview with SWOP HQ
HEALTH
Planned Parenthood Providence RI    (401) 421-9620 175 Broad St, Providence, RI 02903
Legal Advice
Education, Lobbying, and Social Organizations
There are a number of organizations working to improve conditions for sex workers, from the perspective of decriminalization, concern over safety, health and legal issues, as well as the simple issue of being treated as a human being with the same dignity and respect due to any other mother, sister or daughter. Organizations that may be of interest to those of you of an activist bent include:
Safety, Screening & Miscellaneous
Screening & safety should be a top priority for all sex workers and those who hire them.