March 23rd, 2018 at 7 PM, Coalition Radio hosted by Pat Ford with @KateDAdamo to Discuss A Post #SESTA #FOSTA World. #ItAintOverYet
The documentary won the first price in section human rights at Amnesty International. The documentary was done by her mother in grief and a French film team. About how social service, the society, the police, the court in Sweden ignore Jasmine and other women in same situations and let the murder stabbed her with a knife 39 times.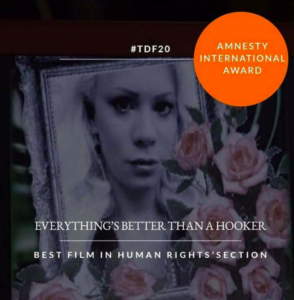 The Massachusetts Sex Worker Ally Network (MASWAN) Joined The Coalition Talk Radio February 23rd,  2018
Bourbon Street Strippers Fight Back – February 1, 2018
On January 19 and 24, New Orleans police and Louisiana state police raided eight strip clubs on Bourbon Street, the city's tourism center. Male officers reportedly stood in the dressing room while the women got dressed, took pictures of the undressed women, announced the women's legal names in front of customers, and made derogatory comments.
Now the workers are fighting back. Last night, hundreds of strip club employees and their allies marched through the French Quarter in a raucous protest.
This is part of what many see as a war on nightlife by outgoing Mayor Mitch Landrieu. He has also proposed shutting the city's famous all-night bars early, and the city just spent tens of millions of dollars on surveillance cameras all across the city.
The city and state have used the justification of "fighting sex trafficking" for the raids, but no trafficking victims were found. However, hundreds of workers are unemployed as a result of the raids.
This webinar was presented by Elene Lam of Butterfly and Vince Wong of the Chinese and Southeast Asian Legal Clinic and was supported by Nancy Sun of St. Stephen's Community House. The Migrant Sex Workers Legal Training Project is a partnership between The Chinese Canadian National Council Toronto Chapter (CCNCTO)
Webinar: Legal Training -Supporting Human Rights of Migrant Sex Workers
Webinar: Legal Training Materials (PowerPoint)
Webinar: Legal Training Materials (Summary)
Webinar: Legal Training Materials (Fanny's Story)
ECP Niki Adams – 'internet sex work' Victoria Derbyshire Show BBC2 IntlProsColl  Jan 25, 2018
Sex Work- The 4 legal models
 "ESPLERP V GASCON Where we are, where we are going and what we need"