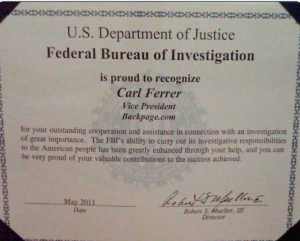 2021 report from the U.S. Government Accountability Office (GAO),
Backpage Trial Ends with a Little Justice and a Mountain of Misery Link
Sex Workers Decry Verdicts in Backpage's Federal Show Trial Link & Link
Once Again, DOJ Fails To Convict Backpage Boss Of Sex Trafficking Or Prostitution Link
Backpage: The Monumental Free Speech Case the Media Ignored Link
How the Federal Government Continues to Whitewash American History. #BackpageTrial Backpage Principals Convicted of $500M Prostitution Promotion Scheme Link
Backpage creator Michael Lacey dodges prostitution conviction Link
Jury Reaches Mixed Verdict in Backpage Owner, Execs Trial Link
Backpage founder convicted of 1 count of money laundering. Arizona jury deadlocks on 84 other counts- Judge declares another mistrial. Link
11/14/2023- #BackpageTrial: The jury came back with a note from 2 jurors saying they've only agreed on one of the 100 charges, describing an emotional situation in the jury room, and that the two signers believe that they are a "hung jury." Described jurors offering "what if" opinions. Prosecutors said the jury should be given an "Allen charge," asking jurors to reconsider. The defense objected, saying that it was inappropriate and that holdouts might perceive that as a directed verdict. Judge Humetewa sided with the prosecutors. Here is the language of Allen charge.
Prosecution Makes Last Minute Disclosure in Backpage Trial, Defense Attorney Moves for Dismissal Link
2023-11-09 Motion to Intervene to Object to Government's Motion for Protective Order Link
Prosecution's Rebuttal in Backpage Trial Presumes the Guilt of Millions Link
Parties in Backpage Trial Prepare to Battle over Seized Assets Link
Cambria Pleads Lacey's Case in Backpage Trial Link
Jurors hear opposite views of whether Backpage founder knew the site was running sex ads Link
Sex Trafficking Expert Testifies for Defense in Backpage Trial, and the Relevance of Dan Hyer Link
Backpage defense begins its case-in-chief Link
Backpage Defense Calls First Two Witnesses, Prosecutor Ticked by Text Messages Link
Backpage Defense Moves for Acquittal, Prosecution Rests Link
Backpage Attorneys Undercut Testimony of NCMEC and Polaris Honchos Link
Backpage Trial Resumes Oct. 10, as Federal Prosecutors Ruin Lives Big Brother-style Link
Feds' Songbird Carl Ferrer Crushed on Cross by Defense Attnys in Backpage Trial Link
Backpage Trial: Paul Cambria on Point, 'Driving Miss Daisy,' Ferrer Fumbles Link
Backpage defense drags credibility of key witness Link
Backpage Judge Shoots Down Third Mistrial Motion, Saying Prosecution Hasn't Pushed Envelope 'Yet' Link
Backpage Case Nearly Derails as Defense Calls Twice for Mistrial Link
Government, Carl Ferrer Mislead Jury about Michael Lacey, Village Voice Media, Backpage Link
Ex-Backpage Owner Carl Ferrer Sings for Prosecution, Defense Undercuts His Testimony Link
How John and Cindy McCain Came to Hate Michael Lacey and Jim Larkin Link
Bill that Would Stop the Government Buying Data Without a Warrant Passes Key Hurdle Link
Appeals Court Upholds FOSTA, Narrowing Its Scope, but the Chill on Free Speech Continues Link
The United States Court of Appeals for the District of Columbia upheld FOSTA (Fight Online Sex Trafficking Act) Link
U.S. Attorney's Office Wants to Ban First Amendment in Free Speech Case Link
Lacey/Larkin: SCOTUS Decision in Hansen Case Supports Motion to Dismiss Link
Lacey/Larkin Blast Feds' Bid To Ban First Amendment and Free Speech Link
Prosecutors Say Backpage Defendants Shouldn't Be Allowed To Reference the 1st Amendment Link
Lacey/Larkin Judge Nixes Defense Motion on DOJ's Janus-Faced Woodhull Arguments Link
Motion to Dismiss Calls Out DOJ Duplicity in Backpage/Woodhull Cases Link
Federal Judge Makes History in Holding That Border Searches of Cell Phones Require a Warrant Link
EARN IT Act Is Back, And It's Still Terribly Destructive Link
The STOP CSAM Act Would Put Security and Free Speech at Risk Link
Kids Online Safety Act may harm minors, civil society groups warn Lawmakers Link
On the fifth anniversary of their arrests due to their former ownership of Backpage, Michael Lacey and Jim Larkin still refuse to bow before the federal government. Link
Motion to Dismiss Calls Out DOJ Duplicity in Backpage/Woodhull Cases Link
Judge Reschedules Lacey/Larkin Retrial as Federal Prosecutors Court Another Mistrial Link
Could the RESTRICT Act Criminalize the Use of VPNs? Link
Reminder: Section 230 Protects You When You Forward An Email Link
Judge Suggests Trying Journalists Lacey and Larkin Separately from Co-Defendants in Retrial Link
Quick Debrief on the Gonzalez v. Google Oral Arguments Link
Forbes Scribe Blasts Cash App, Conflating Sex Work with Sex Trafficking link
Judge Schedules 'Firm' Start Date for Lacey/Larkin Retrial link
Woodhull's FOSTA Challenge Lays Bare DOJ's Lies in Lacey/Larkin Case Link
The Cato Institute, 'Jawboning' and the Crusade Against Backpage link
Humetewa Orders Nov 2 Status Conference in Lacy/Larkin Case to Discuss 2023 Trial Dates link
No date yet for the new Backpage trial, but it will likely be in 2023. That means a SIXTH calendar year that this prosecution has been hanging over the defendants' heads (and sapping up government time and resources) link
Ninth Circuit Panel Rejects Lacey/Larkin's Double Jeopardy Appeal link
The Erotic Services Providers Legal Education & Research Project, Joins Appeal Court Case to Support 1st Amendment Rights link
COYOTE RI urges DC Circuit Court to overturn harmful sex trafficking law link
CDT Files Amicus Brief Challenging Constitutionality of FOSTA link
CoyoteRI AMICI FOSTA Appeal 2022
THE NATIONAL COUNCIL FOR INCARCERATED AND FORMERLY INCARCERATED WOMEN AND GIRLS SUPPORTS SEX WORKERS IN THEIR FIGHT TO RESTORE THEIR FIRST AMENDMENT RIGHTS link
WOODHULL FREEDOM FOUNDATION, HUMAN RIGHTS WATCH, ERIC KOSZYK, JESSE MALEY a/k/a ALEX ANDREWS, and THE INTERNET ARCHIVE. "Appellants opening brief" filed in the United States Court of Appeals for the District of Columbia Circuit on 9/6/2022 
2022-09-06 Appellants Opening Brief
9th Circuit Hears Arguments in Backpage.com Appeal link
Lacey/Larkin Appeal Argued at the Ninth, Where the Government Drops 'Napalm,' Yet Again link
Oral arguments in the Lacey/Larkin Appeal #backpage around the 1 hr 34-minute mark. Sept 2nd, 2022  link
Who Would Benefit From California's Age-Appropriate Design Code? Apparently Porn Companies, Privacy Lawyers, And Medical Disinfo Peddlers. But Not Kids link
Ninth Circuit Sets Tentative Date for Oral Arguments in Lacey/Larkin Case link
Backpage's Victories in Federal and State Courts, FPC, July 11, 2022
CDT & the ACLU filed amicus briefs on behalf of a coalition of civil rights, human rights, and sex workers rights organizations in Doe v. Twitter and M.H. v. Omegle.com, two cases that will set important new precedent interpreting the Allowing States and Victims to Fight Online Sex Trafficking Act (FOSTA). link
Prosecution Hits First Amendment Iceberg in Lacey/Larkin Case 5/9/22 link
Digital Security and Privacy Tips for Those Involved in Abortion Access 5/4/22 link
The New Campaign for a Sex-Free Internet; Sex, Money, and the future of Online Free Speech [link] May 2022
Eschewing independent research, as well as (apparently) the use of Google, Washington Post editor E.J. Graff guzzles the proverbial Kool-Aid in her review of "Taking Down Backpage." [link] April 13th, 2022
Texas Judges Claim Jurisdiction Over Facebook Lawsuit Challenging Section 230 [link] April 13th, 2022
Federal Vendetta Against Lacey and Larkin Enters Fourth Year [link] April 7th, 2022
Federal Online Sex Trafficking Law Survives First Amendment Look [link] March 30th, 2022
DISTRICT COURT UPHOLDS CONSTITUTIONALITY OF FOSTA; SEX WORKERS VOW TO APPEAL- [link] March 29th, 2022
When pre-trial wranglings endangered the case against storied newspapermen and former Backpage owners Michael Lacey and Jim Larkin, federal prosecutors deliberately defied judicial orders, provoking defense attorneys into moving for a mistrial. March 22st, 2022
Ignoring EARN IT's Fourth Amendment Problem Won't Make It Go Away– March 11th, 2022
Is There a Constitutional Right to Sex Work? February 1st, 2022
Senators Rush EARN IT Act Through Committee as Controversy Mounts- February 10th, 2022
It's Back: Senators Want EARN IT Bill to Scan All Online Messages- February 3rd, 2022
Senate's New EARN IT Bill Will Make Child Exploitation Problem Worse, Not Better, And Still Attacks Encryption- February 1st, 2022
The EARN IT Act Is Back. Here's What People Are Saying.- February 1st, 2022
Tech's Censorship of Porn & the Difficulty of Getting Paid– January 26th, 2022
Digital Rights Experts Warn Against the Democrats' Sprawling 'America COMPETES' Bill- January 26th, 2022
Judge Dismisses Backpage. com-Related Lawsuit Against Salesforce– January 25th, 2022
Reason Magazine Crushes Maggy Krell's Cockamamie Claim That She 'Took Down' Backpage- January 21st, 2022
Facts Contradict Maggy Krell's Claim that Backpage's Demise Helped Victims/Survivors- January 17th, 2022
Kamala Harris' Ex-Underling Maggy Krell Did Not 'Break' Backpage, as NY Daily News Claims– January 9th, 2022
Judge Vacates Feb. 9 Trial Date in Lacey/Larkin Case, Awaiting Outcome of Ninth Circuit Appeal- January 11th, 2022
NY Senator Proposes Ridiculously Unconstitutional Social Media Law That Is The Mirror Opposite Of Equally Unconstitutional Laws In Florida & Texas- January 3rd, 2022
Judge Denies Motion to Dismiss for Double Jeopardy in Lacey/Larkin Case– December 30th, 2021
The prosecution, Defense in Lacey/Larkin Case Lock Horns over Motion to Dismiss for Double Jeopardy- December 6th, 2021
Lacey/Larkin Defense: Government 'Goaded' Mistrial as Part of Pattern of Misconduct- December 2nd, 2021
Judge Humetewa: Ties to John McCain Do Not Merit Recusal in Lacey/Larkin Case- November 20th, 2021
Lacey/Larkin Defense Asks Judge to Release Portion of Illegally-Seized Assets- November 18, 2021
McCains Cast 'Long Shadow' over Lacey/Larkin Case- November 12th, 2021
Lacey/Larkin Motion Questions Judge Humetewa's Ties to John McCain- November 6th, 2021
Judge Brnovich Recuses Self from Lacey/Larkin Case– October 29th, 2021
Netflix Says Algorithm Is Protected by First Amendment in 13 Reasons Why Suicide Lawsuit- October 27th, 2021
Defense Attorneys Move to Dismiss Lacey/Larkin Case for Double Jeopardy- October 22, 2021
Prosecutors (Again) Falsely Equate 'Escorts' with 'Prostitution' in Latest Filing in Lacey/Larkin Case– October 19th, 2021
Arizona AG Threatens Facebook with 'Sex Trafficking' Investigation- October 15th, 2021
Biden's Total Financial Surveillance- October 2021
Credit-card firms are becoming reluctant regulators of the web: From sex to free speech, what goes online is increasingly up to financial companies- October 16th, 2021
Lacey/Larkin Trial Reset to Feb. 22 as Feds Block Exculpatory DOJ Memos– October 7th, 2021
Reason Magazine Blasts 'The Collapsing Federal Prostitution Case Against Backpage.com'- October 5tth, 2021
The Collapsing Federal Prostitution Case Against Backpage– October 4th, 2021
The Feds' Epic Fail: Judge Declares Mistrial in Lacey/Larkin Case- September 15th, 2021
Judge Declares Mistrial at Trial of Backpage.com Founders- September 14th, 2021
Anti-Porn Crusader Sharon Cooper Testifies for Prosecution in Lacey/Larkin Trial, Defense Moves for Mistrial- September 14th, 2021
Paul Cambria Tears Kamala Harris' Fave Cop a New One on Cross in Lacey/Larkin Trial- September 13th, 2021
The government reached a sewer-like low on Sep. 3 during federal prosecutor Reggie Jones' opening statement in the Phoenix trial of veteran newspapermen, Michael Lacey and Jim Larkin. September 8th, 2021
Judge Declares Mistrial in Lacey/Larkin Case, Front Page Confidential (FPC), 9/14/21
Jury Selection in Lacey/Larkin Trial Could Wrap Up on Thursday– September 2nd, 2021
Backpage Kingpins Go on Trial—and Sex Workers May Pay the Price- September 1st, 2021
Ex-Backpage owners head to trial over alleged sex ads- August 31st, 2021
STATEMENT FROM MICHAEL LACEY AND JIM LARKIN ON THEIR UPCOMING TRIAL– August 30, 2021
Feds Fight First Amendment Defense in Lacey/Larkin Trial– August 30th, 2021
In the past week, federal Judge Susan Brnovich twice changed the start date of the Lacey/Larkin trial- August 18th, 2021
Judge Delays Lacey/Larkin Trial over COVID Concerns, while Free Speech Hangs in the Balance- August 16th, 2021
The Lies This Time August 2021
Enough About FOSTA's 'Unintended Consequences'; They Were Always Intended- July 29th, 2021
One Month Till Lacey/Larkin Trial: Government Hides Grand Jury Instructions, Refuses to Define 'Prostitution –July 26th, 2021
Facebook must face a sex-trafficking suit, Texas judge rules-  June 28th, 2021
Sex Trafficking: Online Platforms and Federal Prosecutions June 21st, 2021
Lead Prosecutor in Lacey/Larkin Case Falsely Claims 'Escort Services' Same as Prostitution Under Law- June 20th, 2021
The Lies This Time– July 19th, 2021
Sex Trafficking: Online Platforms and Federal Prosecutions- June 2021
GAO Report on Negative Effects of FOSTA and Backpage Takedown,  U.S. Government Accountability Office, June 2021
Internet sex trafficking law FOSTA-SESTA is almost never used, says government report- June 24th, 2021
Prosecutors' 'Murder Motion' in Lacey/Larkin Case Fails, but Feds Can Still Smear Defendants at Trial- May 14th, 2021
On April 5, 2021, a Ninth Circuit Appeals Court panel shot down a defense request in the Lacey/Larkin case to order Judge Brnovich's recusal.
Judge Brnovich Rejects Defense Subpoena to AG Brnovich in Lacey/Larkin Case– February 23rd, 2021
Lacey/Larkin Trial Date Rescheduled– February 2021
Ninth Circuit Sets Date in Lacey/Larkin Bid to Boot Judge– January 26th, 2021
Ninth Orders Government to Respond to Mandamus Petition after Judge Brnovich Claims Lacey/Larkin Case 'Not About Backpage' December 7th, 2020
Lacey and Larkin Ask Ninth Circuit to Order Judge Brnovich's Recusal- November 19th, 2020
Judge Whose A.G. Spouse Bashes Backpage Won't Recuse Herself From Backpage Trial- Oct 30th, 2020
Lacey/Larkin Trial Delayed Again– Oct 10th, 2020
In a recent motion filed in U.S. District Court in Phoenix, ex-Backpage owners Michael Lacey and Jim Larkin ask that federal Judge Susan Brnovich recuse herself from their case. October 7th, 2020
Plaintiffs Continue Effort to Overturn FOSTA, One of the Broadest Internet Censorship Laws- September 17th, 2020
FBI Violates Fourth Amendment, Returns Some Personal Property to Lacey/Larkin- September 11th, 2020
Ninth Circuit Panel Dismisses Appeal of Asset Seizures in Lacey/Larkin Case for Lack of Jurisdiction- August 28th, 2020
Three-Time Loser Joe Arpaio and His Infamous 2007 Attack on the First Amendment-August 7th, 2020
The EARN IT Act passes out of the Senate Judiciary Committee–  July 2nd, 2020
Supreme Court rules LGBTQ workers are protected from job discrimination- June 2020
Judge Orders Delay to Lacey/Larkin Trial over COVID-19 Concerns– June 30th, 2020
First, the Court decided Agency for International Development v. Alliance for Open Society International, upholding a limitation on USAID grant funding to organizations with "a policy explicitly opposing prostitution and sex trafficking" because foreign corporations operating abroad "possess no rights under the First Amendment,"  June 29th, 2020- Read more here 
DOJ Finally Uses FOSTA, Over Two Years Later… To Shut Down A Site Used By Sex Workers- June 24th, 2020
In the landmark case, Supreme Court rules LGBTQ workers are protected from job discrimination- June 15th, 2020
SEX TRAFFICKING Online Platforms and Federal Prosecutions June 2021
Lacey/Larkin Shred Feds' Blueprint for Censorship in Asset Seizure Fight-  May 20, 2020
Trump expected to sign an executive order that could threaten punishment against Facebook, Google, and Twitter over allegations of political bias- May 27th, 2020
Prosecutors double-down on unhinged character assassination in the Lacey/Larkin case, urging the trial judge to admit evidence of homicides, in spite of zero links to the defendants.-  May 22nd, 2020
The attorney-client privilege, which protects the confidentiality of communications between counsel and client, is a cornerstone of the American justice system.– May 14th, 2020
The EARN IT Act is a disaster amid the COVID-19 crisis–May 4, 2020
HISTORIC—SUPREME COURT – HIV/AIDS nonprofits are challenging a law requiring groups to oppose prostitution to get federal funding– May 5th, 2020
Once Upon a Time … in Tempe: The Early Days of Phoenix New Times– May 1st, 2020
Ninth Circuit Shoots Down Feds' Bid to Dismiss Lacey/Larkin Appeal of Asset Seizures- April 11th, 2020
Good News: Adult Businesses CAN Apply For SBA Disaster Loans- April 3rd, 2020
Opponents of FOSTA law win Appeals Court victory- March 11th, 2020
FOSTA Constitutional Challenge Revived–Woodhull Freedom Foundation v. US– January 27th, 2020
US Courts of Appeals. WOODHULL FREEDOM FOUNDATION, ET AL., APPELLANTS v. UNITED STATES OF AMERICA AND WILLIAM P. BARR, IN HIS OFFICIAL CAPACITY AS ATTORNEY GENERAL OF THE UNITED – January 24th, 2020
Lacey/Larkin Judge Tosses Motion Alleging Feds Poisoned Grand Jury Proceedings– January 17th, 2020
Judge Rejects First Amendment Arguments Against Feds' Seizure of Lacey/Larkin's Assets; Lacey and Larkin Appeal- January 10th, 2020
Civil FOSTA Suits Start Showing Up In Court; Prove That FOSTA Supporters Were 100% Wrong About Who Would Be Targeted- January 9th, 2020
Village Voice Media's Investigative Series on Sex Trafficking Still Rocks- January 1st, 2020
FBI Shattered Backpage Evidence "Into a Million Pieces," Says Expert- December 2019
Witnesses Describe the FBI's Mishandling of Computer Servers in Backpage November 13th, 2019
Judge Rejects First Amendment Arguments in Lacey and Larkin Case- October 29th, 2019
Backpage v The Feds- Podcast October 2019
Prosecutors Poisoned Grand Jury Process in Lacey and Larkin Case– October 25th, 2019
Feds Bungled Preservation of Server Evidence in U.S. v. Lacey and Larkin October 8th, 2019
Episode 48: Woodhull's Legal Challenge to FOSTA/SESTA
Friday, September 20, 2019, 9:30 A.M. USCA Courtroom 31 – Judges Rogers, 18-5298 Woodhull Freedom Foundation v. USA
Hearing Friday: Plaintiffs Challenging FOSTA Ask Court to Reinstate Lawsuit Seeking To Block Its Enforcement-September 18th, 2019
Feds Stonewall on Access to Backpage's Servers in Lacey and Larkin Case– September 17th, 2019
Rep. Ro Khanna To Introduce Bill To Study Impact Of FOSTA On Sex Workers– September 16th, 2019
Secret Memos Show the Government Has Been Lying About Backpage- August 26th, 2019
Judge Denies Feds' Bid to Sanction Lacey and Larkin Over WIRED Story –August 20th, 2019
THE FIGHT OVER SECTION 230—AND THE INTERNET AS WE KNOW IT -August 13th, 2019
Ninth Circuit Hands Lacey and Larkin a Partial Win in Latest Battle over Seized Assets- July 30th, 2019
Ninth Circuit Judges Mull First Amendment Challenge to Seizures of Ex-Backpage Owners' Assets -July 12th, 2019
"Judge Delays Trial of Ex-Backpage Owners and Execs Till May 5, 2020" July 3rd, 2019
Woodhull, HRW Anti-FOSTA Lawsuit to Hit Appeals Court Sept. 20
Woodhull's Fight Against FOSTA Returns to Court September 20th
The War on Backpage.com Is a War on Sex Workers -June 26th, 2019
Inside Backpage's Vicious Battle With the Feds, Christine Biederman, WIRED cover story, 6/18/19
INSIDE BACKPAGE.COM'S VICIOUS BATTLE WITH THE FEDS -June 16th, 2019
Four Civil Liberties Organizations File Amicus Briefs in Support of Backpage Defendants' Motion to Dismiss –May 29th, 2019
Grindr and Armslist Cases Reaffirm Core Protections for User-Generated Content -May 17th, 2019
New "Evidence" in Backpage Case Reveals Government's Flawed Prosecution -May 8th, 2019
The Human Cost Of FOSTA- May 7th, 2019
21 States Inadvertently Tell The DC Circuit That The Plaintiffs Challenging FOSTA Have A Case- May 2nd, 2019
21 States Inadvertently, Tell The DC Circuit That The Plaintiffs Challenging FOSTA Have A Case- May 2nd, 2019
Extra, Extra! All of FPC's Coverage of the Backpage Case in One Place -April 28th, 2019
Attorney General Moody Asks DMS to Evaluate State Contract with Company that Provided Services to Backpage.com– April 3rd, 2019
At Reason Foundation Event in Phoenix, Michael Lacey and Jim Larkin Denounce Government Overreach in Backpage Case -March 13th, 2019
How the Feds Are Using Civil Asset Forfeiture to Threaten Free Speech-Sex, publishing, and quasi-legal theft collide in the Backpage prosecution.-February 20th,
Against FOSTA/SESTA: One Canary's Cry From Inside the Coal Mine  By Lucy Kahn- Feb 2019
The Death Of The Dabbler and The Erasure Of Sex Work From The Common Internet- By Grace Marie- Feb 2019
Global Implications Of FOSTA  By Meghan Peterson- Feb 2019
REJECTED-Sex Workers Say Kamala Harris Won't Be Their Woman in 2020- January 23rd, 2019
Facebook's Sexual Solicitation Policy is a Honeypot for Trolls -December 7th, 2018
Online sex ads rebound, months after the shutdown of Backpage -November 28th, 2018
Lawyers, Guns, and Money (And to Hell with Free Speech) –November 4th, 2018
READ THE BRIEFS BELOW & CHECK BACK FOR UPDATES.
10/9/18: Woodhull v. FOSTA. Woodhull et al v. the United States of America. Notice of 
BREAKING: Woodhull Freedom Foundation Appeals FOSTA Ruling– Oct 16th, 2018
Federal Judge in Backpage.com Case Rules for Defense Team in Crucial First Amendment Victory Oct 15th, 2018
Federal Judge Denies Government Bid to Disqualify First Amendment Attorneys from Backpage Defense Team  Oct 13th, 2018
Washington Post Gives 'Three Pinocchios' To Rep. Ann Wagner For Falsely Claiming FOSTA Stopped 90% of Sex Trafficking Ads-  Oct 12th, 2018
Backpage Defense Team Wages First Amendment Battle on Two Fronts -Oct 9th, 2018
District Court Misses The Forest For The Trees In Dismissing Constitutional Challenge To FOSTA -Sept 25th, 2018
A side effect of trafficking law: More street prostitution?- Sept 24th, 2018
How John and Cindy McCain Came to Hate Michael Lacey and Jim Larkin- September 17th, 2018
Backpage.com Founders Michael Lacey and James Larkin Were Accused of Sex Trafficking by the Senate. Now They Tell Their Story: Reason Roundup -Aug 21st, 2018
The Senate Accused Them of Selling Kids for Sex. The FBI Raided Their Homes. Backpage.com's Founders Speak for the First Time.  -August 21st, 2018
Backpage's Sales Director Pleads Guilty to Conspiracy –August 18th, 2018
2257 Judge Delivers Big Win in Final Judgment, Decree- August 6th, 2018
House Judiciary Committee Falsely Claims Credit For Stopping 90% of All Sex Trafficking Because Of FOSTA-  July 24, 2018
Woodhull Freedom Foundation et al. v. the United States  June 2018
Lawsuit to Stop FOSTA Gets Court Hearing, But Nothing Happens– July 19th, 2018
Woodhull Freedom Foundation et al. v. the United States motion for preliminary injunction and memorandum of law in support. June 28th, 2018
Hearing Thursday: EFF Asks Court to Block Enforcement of FOSTA While Lawsuit Proceeds- July 17th, 2018
Justice Department Seeks Dismissal of FOSTA Lawsuit-  July 12th, 2018
FOSTA Judge Gives Justice Department an Extension of Time  -July 10th, 2018
FSC, Justice Department Can't Agree About Proposed 2257 Judgment -July 9th, 2018
More Police Admitting That FOSTA/SESTA Has Made It Much More Difficult To Catch Pimps And Traffickers– July 9th, 2018
BROAD ANTI-TRAFFICKING LAW FACES ITS FIRST CONSTITUTIONAL CHALLENGE– June 28, 2018
EFF Sues to Invalidate FOSTA, an Unconstitutional Internet Censorship Law- June 28th, 2018
New Lawsuit Challenges FOSTA – The Federal Law Sparking Website Shutdowns- June 28th, 2018
Woodhull Freedom Foundation et al. v. the United States  June 28, 2018
National Sex Workers' Summit Culminates in Manifesto Calling for Decriminalization of Prostitution-  June 25th,2018
January 2020 trial set for Backpage.com founders– April 30th, 2018
BUFFALO LAWYER, PAUL CAMBRIA, DEFENDING BACK PAGE CO-FOUNDER– April 27th, 2018
A BRIEF BACKGROUND; FOSTA SESTA the BILL-April 25th, 2018
POLICING BACK PAGE AND THE BACK PAGES- April 19th,2018
 A Vest Pocket Guide to Brothels in 19th-Century New York for Gentlemen
Hearing set for jailed Backpage founder in a case over sex ads– April 16th, 2018
Backpage CEO Carl Ferrer pleads guilty in three states, agrees to testify against other website officials– April 13th, 2018
Backpage Founder's 93 Charges Lack Actual Sex-Trafficking Claims April 9th, 2018
Backpage execs indicted on federal prostitution, money laundering charges April 9th, 2018
New Backpage Ruling Lays Bare Some of the Lies Undergirding FOSTA April 2nd, 2018
Backpage inditement -March 28th, 2018
On April 6, 2018, Backpage was seized by the United States Department of Justice, and it was reported that Michael Lacey's home had been raided by authorities.[86] The seizure came in the wake of the passing of the Stop Enabling Sex Traffickers Act (SESTA), which amends Section 230 to explicitly exclude federal or state sex trafficking laws from its immunity. Although the bill had been passed in March, it had yet been signed into law on the day of the seizure. Critics of the bill, which was primarily designed to target Backpage,[87] had argued that the bill was unnecessary because of established case law making websites liable for knowingly facilitating sex trafficking.[88][89][90] Technically the seizure has been performed by the FBI and the nameservers of the domains were changed to "ns1.seizedservers.com" in order to display the authorities seized page.[91
In late March 2018 and early April 2018, courts in Massachusetts and Florida affirmed that Backpage's facilitation of sex trafficking fell outside of the immunity granted by Section 230 safe harbors. The latter ruling argued that because Backpage "materially contributed to the content of the advertisement" by censoring specific keywords, it became a publisher of content and thus no longer protected.[
District Court Ruling Highlights Congress' Hastiness To Pass 'Worst of Both Worlds FOSTA'– Doe 1 v. Backpage– March 30, 2018
DOJ Says they have concerns FOSTA February 27th, 2018
Prosecutors And Anti-Sex Trafficking Advocates Aren't Happy With The Government's  Treatment Of Backpage- by Tim Cushing -Feb 14th, 2017
WHEN EVEN PROSECUTORS THINK BACKPAGE'S SHUTDOWN SUCKED– Feb 7th, 2017
Kamala Harris Slaps New Charges on Backpage, in a Case that Threatens Tech Sector- By ETHAN BARON- Dec 23rd, 2016
Some Comments on the CA/TX Attorneys' General Prosecution of Backpage's Executives-  · by Eric Goldman October 13, 2016
Backpage.com CEO Carl Ferrer Arrested in Texas for Pimping, Conspiracy Oct 6th, 2016
Supreme Court declines sheriff's appeal in Backpage sex ads fight- Oct 3rd, 2016
Sex Workers Joint statement regarding the harassment of backpage – Nov 2016
Sheriff Dart, Meet the First Amendment  – Dec 2nd, 2015
Seventh Circuit Appeals Court Judge Richard Posner's decision in Backpage v. Dart,11/30/15
Backpage.com v. Hoffman, et al. | Digital Media Law Project– 2013
BACKPAGE.COM, LLC V. MCKENNA– 2012
Backpage.com, LLC v. Cooper – Casetext  2012
Real Men Get Their Facts Straight, The Village Voice, 6/29/11
M.A. v. Village Voice Media Holdings, 2010
 Craigslist to Remove Category for 'Erotic Services' –  May 2009
Dart v. Craigslist, Inc. – Wikipedia 2009
Craigslist's agreement with attorneys general around the country, anyone who posts an "erotic services" ad will be required to provide a working phone number and pay a fee with a valid credit card.  Nov 2008
Lacey and Larkin were arrested in Arizona by then-Sheriff Joe Arpaio's office in 2007 for publishing information about a secret grand jury subpoena demanding information on its stories and online readers. They won a $3.75 million settlement from the county government as a result of their now-discredited arrests.
Backpage was a classified advertising website launched in 2004.
Doe v. MySpace Inc. – Wikipedia 1995
Norma Jean Almodovar and R.n. Bullard, Plaintiffs-appellants, v. Ira Reiner, Burton J. Schneirow, Darryl Gates, Joseph Conti, and James G. Como, Defendants-appellees, 832 F.2d 1138 (9th Cir. 1987)