RI INCARCERATION
RI DOC 2020 Annual Population Report  link
RI DOC 2021 Annual Population Report  link
Law Enforcement and Legal Responses to Domestic Violence in Rhode Island
RI H5250 Legislative Study Commission
COYOTE's RESEARCH,  DATA & BILL DRAFTS
RHODE ISLAND AT A GLANCE
Policing-Modern-Day-Slavery-Carceral-Care-in-Rhode-Island
Immunity in Reporting Laws for Sex Workers and Sex Trafficking Survivors:
New England Housing Report July 2022  link
ACLU CALLS TO DECRIMINALIZE SEX WORK IN RHODE ISLAND Link
Rhode Island Policy, Legislation & Media
Senate Judiciary Committee Hearing on S2233, S2617 & S2713 (April 5th, 2020) [video]
RI's Bella Robinson fights to legalize prostitution, her profession at age 57 [link]
RI STATS
Rhode Island Supreme Court
US Supreme Court & Federal Courts
OTHER COURTS
LITIGATION:  CASES INVOLVING PROSTITUTION OR TRAFFICKING 
Amicus Brief of Floor64 d/b/a The Copia Institute, Engine Advocacy & Reddit. 2/20/19 link

WOODHULL FREEDOM FOUNDATION, HUMAN RIGHTS WATCH, ERIC KOSZYK, JESSE MALEY a/k/a ALEX ANDREWS, and THE INTERNET ARCHIVE. "Appellants opening brief" filed in the United States Court of Appeals for the District of Columbia Circuit   2022-09-06 Appellants Opening Brief
COYOTE PUBLICATIONS & PODCASTS
What is Sex Trafficking [link]
Student Testimonies H5254 (2019) [link]
COYOTE RI SEX WORKER RIGHTS TRAINING- FREE HER FELLOWSHIP 2022 [link]
After FOSTA Impact Report [link]
The New Virtual Crackdown on Sex Workers' Rights: Perspectives from the United States (2018) link
Global Implications Of FOSTA [link]
Texas Christian University Presentation- [link] Sept 2018
How Abolition gets Trafficked 2 [link]Sept 2018
The Effects of Polaris Project in Rhode Island [link]
Sex Trafficking and the Sex Industry in the United States- [link]2017
"We Don't Need Your Pity, We Need Our Rights:" Understanding the Experiences of Sex Workers within the HIV Continuum of Care in the United States
Policing Modern-Day
Slavery [link] 2014-2016
10 Years After Re-Criminalization [link]
Decriminalize Now [link]
Decarceral alliances in the fight to decriminalize sex work [link]
Royce Presentation  Transnational  Sex Workers Justice by Yanhoo Cho [link]
COYOTES project, tracking the trafficking funding. [link]
What Are Your COVID Rules? [link]
A Brief History of Prostitution – Geisha Diaries [link]
Bella Robinson and Naomi Blech- Storycorps [link]
Prostitution Raids Demonstrate how Anti-Prostitution Rhetoric Harms Victims [link]
COYOTE RI's Sex Worker Story Telling Series Podcasts [link]
2021 COYOTE RI IDTEVASW Memorial List
How Many Sex Trafficking Headlines are Bogus? Lots of them! [link]
 Important facts on monkeypox- link
COYOTE TRAINING MATERIALS
OUT-OF-STATE RESEARCH & DOJ Reports
Trans Women in Hawaii's Sex Industry
SUGGESTED READING
_____________________________________________________________________________________________________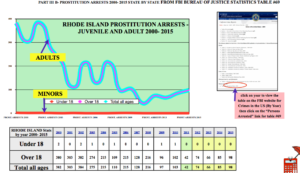 2000-2016

2000 to 2017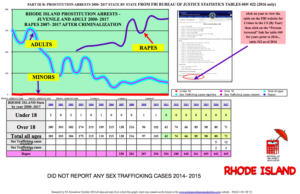 "We Don't Need Your Pity, We Need Our Rights:" Understanding the Experiences of Sex Workers within the HIV Continuum of Care in the United States
Julianna Brown April 20, 2018, Health and Human Biology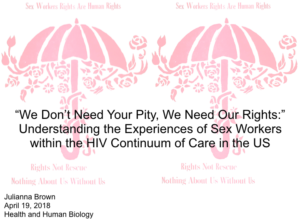 Prosperity Now Scorecard highlights strengths and weaknesses in Rhode Island's ability to help families prosper- Feb 8th, 2018
There's Now A Study Backing Up Link Between Police Shootings, Racial Segregation- Feb 8th, 2018
Thousands of Marijuana Citations Issued Since Possession Decriminalized Study also finds racial disparities in rates of citations issued to African Americans and whites in cities that provided demographic data
ACLU Report: RI lawmakers created 170 new crimes, and harsher penalties from 2000– Jan 30th, 2018
Prostitution decriminalized: Rhode Island's experiment  BY ELANA GORDON- August 3rd, 2017
Decriminalizing Indoor Prostitution: Implications for Sexual Violence and Public Health Scott Cunningham and Manisha Shah-2017  MS21721manuscript
Decriminalizing prostitution could 'dramatically' reduce sexual violence and STI transmission finds study Dec 20th, 2017
Trending Globally: Politics and Policy – Episode 4 – Sex Work Is Work- Dec 2016
Sex workers' rights activist Bella Robinson (Coyote RI)  and sociologist and Watson postdoctoral fellow Elena Shih discuss the "trafficking" and "rescue" narratives muddying the reality of what sex work is–and what sex workers really need.
I am a former escort. Trust me, criminalizing prostitution doesn't help Matthew Lawrence November 3rd, 2016
Donna Hughes, URI professor of sex worker demonization
Major props to Emily Schell,  another Brown University student that we had the pleasure of collaborating with this semester.- May 2016  https://decriminalizenow.wordpress.com
BRIGHT STAR  May 11th, 2016
Prostitution and Sex Work-December 2015
Policing Identity: Intersections of Race, Gender, and Sexuality in the PIC (A Recap in Tweets) APRIL 27, 2015 by CHERISE MORRIS
EXAMINING RHODE ISLAND'S PROSTITUTION AND SEX TRAFFICKING LAWS– March 7th, 2016
Donna Hughes, URI professor of sex worker demonization
'Happy Endings?' is a documentary that explores the Asian Massage Parlor industry in Providence, RI. Follow 'Heather' a Korean immigrant, who opens a spa in August 2005, in a state where a loophole in the law does not make the exchange of sex for money a crime, as long as it happens "behind closed doors".
Prostitution & Prostitution Related Charges in RI
Earning Housing_ Removing Barriers to Housing to Improve the Health and Wellbeing of Chronically Homeless Sex Workers