REAL ABOLITIONISTS
FAKE ABOLITIONISTS- Prison Industrial Complex, Non Profit Industrial Complex
'It's a Money Grab': Billions in COVID Relief Going to Fund Police and Prisons
No, Sex Traffickers Aren't Using Abandoned Child Car Seats to Lure Victims- [link] October 16th, 2021
Apple threatened Facebook ban over slavery posts on Instagram- September 23rd, 2021
Operation Underground Railroad's Carefully Crafted Public Image Is Falling Apart– June 10th, 2021
Child trafficking narratives are misleading May 24th, 2021
What to Say if a Friend Insists '800,000 Children Are Trafficked Each Year'– October 8th, 2020
35 years ago the Senate held hearings on rock lyrics. It was a First Amendment showdown for the ages.– September 19th, 2020
Fact check: No evidence child traffickers are tagging cars as potential targets with codes- September 11th, 2020
Here is Donna Hughes  (2013) once again highlighting a few cases of runaway teenagers involved in survival sex in RI, whiling claiming its an epidemic.
Amazingly she doesn't mention that RI had 320 unlicensed state-run homes in 2016 or that several kids died in state care or the million-dollar lawsuit that was settled in Feb 2019, just a month before another child died in a state-run home.
She also doesn't mention how when they rescue these teens they lock them down on suicide watch at Hasbro hospital if they think the teen will runway again.
I have a feeling the shame-based counseling they force on these teens is as psychologically damaging as conversion therapy is for gay people.
Yet there is no recommendation by Hughes for LGBT halfway houses or youth drop-in centers or anything to support our youth so they have other options than survival sex.
Private Prisons Ask ICE to Pay Multi-Million Dollar Human Trafficking Lawsuit Costs -July 17th, 2019
Donald Trump & Jeffrey Epstein Rape Lawsuit and Affidavits
Trump labor secretary who cut Epstein deal plans to slash funds for sex trafficking victims– July 10th, 2019
Kamala Harris buried the investigation into predator priests and did 'absolutely nothing' after becoming San Francisco D.A. says victims who want their cases files released -JUNE 12TH,2019
PBS series on sex trafficking, trauma porn
Cambodian surrogates face an impossible choice — forced motherhood, or years in prison -May 11th, 2019
Sex Workers Are Having Their Earnings Confiscated in Trafficking Stings -May 15th,  2019
The following letter was sent to Chaturbates Corporate Office May 2019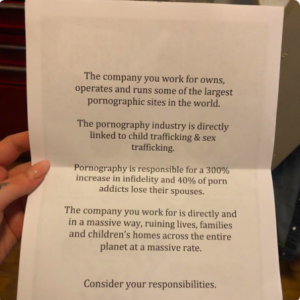 No, 'Sex Trafficking' Won't Actually Increase During the Kentucky Derby -May 2st, 2019
In Wayland, suburban dog-walking moms target sex trafficking –April 27th, 2019
Spotting potential human trafficking at the NFL Draft -April 16th, 2019
Psychologist Who Called Sex Workers 'Receptacles' Influenced Florida Prostitution Registry Bill –April 10th, 2019
The police lie and tell clients how they could get 7 years in prison, yet most people convicted of solicitation of prostitution on the first offense, just get probation and a fine. Also, note that the clients are not soliciting anyone for a sex act, they are simply booking an appointment with an escort which is completely legal. This will only lead to more clients using burner phones and escorts won't be able to screen and violence towards sex workers will increase.
How Many Sex Trafficking Headlines are Bogus? Lots of them!  –March 1st, 2019
The "Grab a Slice" Story Rebekah Charleston Doesn't Want You to Know –February 28th, 2019
Lawmakers use school buses to represent Ga. sex trafficking epidemic  -January 2st, 2018
Facebook Also Becoming a Sexuality-Free Zone: Reason Roundup New rules ban erotic art, talk of shared sexual interests, kink groups, and anything that "encourages sexual encounters between adults." December 6th, 2018
 1995 "Coalition Against Trafficking in Women"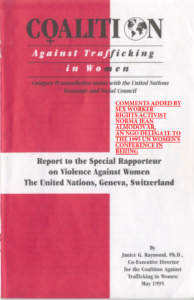 The Citizenship Clause Means What It Says.  The authors of the Fourteenth Amendment were clear that the United States is one nation, with one class of citizens, and that citizenship extends to everyone born here. -Oct 30th, 2018
Journalists Shouldn't Be Copy-and-Pasting Police Press Releases -Oct 15th, 2018
Anti Prostitution Lobby Attacks John Jay College Professors to Discredit their Research.- Oct 7th, 2018
FOSTA For Nonprofit Groups Bill Quietly Passes House Wednesday Bill Would Let Nonprofits Share Info on 'Sex Trafficking' — Even if They're False Sept 27th, 2018
The Millionaire Abolitionist: Oil Heiress Swanee Hunt's Crusade to Stamp Out Sex Work –Sept 27th, 2018
A woman regrets using 'human trafficking' term in a viral video, stands by raising awareness–Sept 19th, 2018
Seven Police Officers Charged with RunningEight NY Brothels- Sept 2018
Beyond Strange Bedfellows- How the "War on Trafficking" Was Made to Unite the Left and Right- August 2018
Anti-Trafficking Laws Are Hurting, Not Helping, but Sex Workers Are Fighting Back– August 24th, 2018
How "abolitionists" are using deception to sway the narrative – July 24th, 2018
Gov. Northam signs bill to help keep human trafficking suspects from getting out on bail- June 25th, 2018
Anti-Sex Work Crusaders Now Coming for Legal Prostitution in Nevada-  May 2st, 2018
Meet The San Diego DA Who Seized On The Human Trafficking Panic to Become A Law Enforcement Superstar-May 2st, 2018
GROUP THAT OPPOSES SEX WORK GAVE MONEY TO PROSECUTORS' OFFICES — AND GOT STINGS AGAINST JOHNS IN RETURN March 24th, 2018
California Judge Rules for Antigay Baker Who Refused Cake to Same-Sex Couple- Feb 6th, 2018
Bill would make seeking out a prostitute a felony, in push against human trafficking– Jan 11th, 2018
$100 million over a 10-year period in software to stalk online sex workers because they are jealous that we make $150 billion in profits and that we have lifted ourselves out of poverty and yet they call us criminals.  Meanwhile, the few real victims of trafficking can't even get a rescue sandwich.
The New Abolitionist Model BY LAURA AGUSTÍN  Dec 6th, 2017
How do you spot a pimp? New state law calls for mandatory human trafficking prevention education in the schools- Dec 6th,2017
The Hunt sisters: Abolitionists  "Doing it for themselves.
Montreal just won My favorite abolitionist of the year with this video!
Rachel Morgan- "Played out"  by by Maggie McNeill
Melissa Farley's claims regarding decriminalization of sex work in New Zealand-
Official complaint
by Calum Bennachie, PhD