Sex Workers Advocate For Change- The Dan Rae show on WBZ [Link]
Episode 2 • "Mattie Yukon" Creators Head Space 
Join The Womxn Project and an impressive panel of experts to think about what it means to ignore sex, who it hurts, and how we can push back so we control our lives – and make sure they include the fun, healthy sex lives and connections that we want!  Livestream link
COYOTE RI's Sex Worker Story Telling Series Podcasts- 
Episode 1-  Meet Bianca: Asian-American online sex worker specializing in blood kink
Episode 2  Meet Eve: FSSW, Pimps, and Autonomy
Episode 3  Meet Jenny Ross: SW Rights Activist, FSSW helped heal from being trafficked
Episode 4  Meet Scarlett: Dominatrix and SW rights activist, Online and FSSW
Episode 5 Meet Wu: Dominatrix, Asian American SW rights activist, and artist-
Episode 6  Meet Anna: Germany based sex worker, masculinity & femininity's values in different industries
Episode 7 Meet Dee: Canada based erotic masseuse and former FSSW
Episode 8 Meet Ruby: Nonbinary SW amidst heteronormative gender roles
Episode 9 Meet Jackie: "Pussy Envy," FSSWorker, masseuse, etc
Episode 10 Meet Norma: "Cop to Call Girl"
Episode 11 Meet Dana: Trafficking, poor resources for neurodiversity, sex work, & new beginnings
Episode 12 Meet Maxine: Prostitute, Activist, and Founder of ESPLERP
Episode 13: Meet Lindsay: FSSW, Incarceration and the Criminal Justice System
Episode 14: Meet M Dante "XXX A Cultural Exploration…": Part 1-   
Episode 15: Meet M Dante "XXX A Cultural Exploration…": Part 2
Episode 16:
_________________________________________________________________________________________
All In A Day's (Sex) Work by Blair Hopkins
Lakeesha Harris of Women With A Vision about sex worker organizing and the decriminalization of consensual sex work
 Karina wrote this week's Willamette Week cover story all about prostitution stings in Portland
 RI Clemency Awareness Panel –  July 2021
Episode 26: Dr. Susan Block–  July 2021
Sex with Strangers– Episode 59: Jessica Forgie sent the Pimp from 'Zola' to prison 
Know Your Rights: Protection, Justice, Compensation – For Sex Workers & Formerly Incarcerated People, by US PROS–  July 2021
Sex Worker Outreach Project Behind Bars Lunch & Learn June 2021
The Trafficked Truth Podcast April 2021
Story Corps with Bella Robinson and Naomi Blech 2016
No More Vigils: The Call For Sex Worker Protection In The Wake Of Atlanta Shootings March 2021
WOMEN'S RIGHTS, PORNOGRAPHY & PROSTITUTION 
House of Hope CDC podcasts RI Homeless 2021
Superbowl Sex Trafficking Myths 2021
All In A Day's (Sex) Work–  Donah Sandford- 2020 
  All In A Day's (Sex) Work   May Jeong
The Pennsylvania Project– Torturing Sex Workers, with Melanie
Missing and Murdered Indigenous Women Part III: The Process of Change‬
Joey The Player: The US vs Jose Torres– July 5th, 2020
Bella Robinson and Naomi Blech- Storycorps– July 16th, 2016
Norma Jean Almodovar – Former LA Cop, Sex Worker & Activist- June 2020
Prostitution / Marilyn Haft and Susan Maurer ; interviewed by Viv Sutherland. 2016
PATRON-EXCLUSIVE CONTENT: The Bella Robinson Vice-Presidential Podcast Ep. 2 Episode 2.mp3
PATRON-EXCLUSIVE CONTENT: The Bella Robinson Vice-Presidential Podcast Ep. 1
How to Prepare for Grad School: 32 Tips for Undergrad Students
Royce Presentation  Transnational  Sex Workers Justice by Yanhoo Cho –-November 2019
NERC Amnesty Decrim Policy 2019 presentation 2019
Episode 22: John Prince and Shannah Kurland on the Community Safety Act & the Gang Database– Podcast- November 2019
Backpage v The Feds- Podcast October 2019
Understanding the Advocacy: Building Allyship and Solidarity in Rhode Island, October 2019
How To Be An Ally To Marginalized Communities– October 2019
Sex Work is Work with Jessica Raven
When Sex Trafficking is Sensationalized,  Criminalized Working Together
Human Rights Watch: Government Needs to Act To Decriminalise Sex Work- South Africa– August 2019
Manisha Shah is Vice-Chair and Professor of Public Policy at the UCLA Luskin School of Public Affairs. June 2019- Podcast
Lilah Rose – Model – Performer – Activist  –-Warning Adult Content-18+- June 2019
402 – Roundtable: Reflections on the First Year of FOSTA/SESTA-May 2019
Norma Jean Almodovar Cop To Call Girl –May 2019
Bella Robinson – COYOTE (Call Off Your Old Tired Ethics) Talks #Decrim #SexWorkIsRealWork-March 2019
Coalition Talk Radio- I Joined The ACLU. You Need To Join Now!– March 1st, 2019
Bella Robinson – Executive Director COYOTE RI – Decriminalizing sex work.  Interview with the Matt Allen radio show -February 11th and February  25th
Listen to Bella Robinson discuss recent developments for sex workers and
the upcoming International Day to End Violence Against Sex Workers
International Day To End Violence Against Sex Workers from The Oldest Profession in Podcasts
After FOSTA Impact Report 2018
Amy: A Lifelong Sentence-   Oct 2018 Sex Trafficking in Alaska
WHAT IS ZINE? BY COYOTE  (SLIDESHOW)
Texas Christian University Presentation by Coyote
Political Education: Bella Robinson on Sex Worker Rights– August 23rd, 2018
Elena Shih and Andrew Crane on Contemporary Solutions to Human Trafficking Podcast Sept 19th, 2018
Shaka Zine & Ho Stage present Contraflow Anti-Traffic Report #2: Rescue Industry Myth-Understandings  [July 2016]
This issue covers the debunked myth that the age of entry into sex work is 13. No data collected reflects this claim, but the Rescue Industry still raises funds with this falsehood. While some may argue that raising awareness is key, getting funding for programs that don't apply to the clients is money that could be spent where it is needed.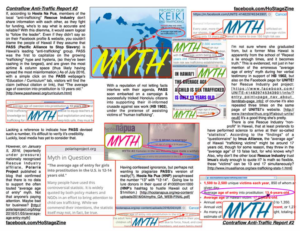 Nataliia Isaieva: Sex workers organizing for change in Eastern Europe
VIDEO CHAT: Alex Andrews (SWOP – Sex Workers Outreach Project-USA) w/ Nicholas Tanek June 2018
SEX WORKER NATIONAL ANTI-CRIMINALIZATION PRINCIPLES  -June 2018
#119 No More Safe Harbor- April 20th, 2018
Missing From #MeToo — Sex Workers- Podcast March 26th, 2018
Podcast- Let strippers do their jobs: Precarity, police raids and the work of sex work.- Feb 26th, 2018
ST 47 – SPOTLIGHT: SWOP BEHIND BARS with Alex Andrews
301 – SESTA from a Sex Worker Perspective- Jan 2018
Political Gingervitis: Episode 17-Sex Workers and Their Struggles For Freedom with Bella Robinson October 9th, 2017
SCSU sociologist Dr. Alan Brown on sex work By Andrew Stewart on January 25, 2016
Prof. Joel Quirk lectures at Brown about sex workers By Andrew Stewart on March 27, 2016
Episode 26:  2016  Fighting the Trafficking Narrative from Alaska to Rhode Island 
Trending Globally: Politics and Policy – Episode 4 – Sex Work Is Work- Dec 2016
Sex workers' rights activist Bella Robinson (Coyote RI)  and sociologist and Watson postdoctoral fellow Elena Shih discuss the "trafficking" and "rescue" narratives muddying the reality of what sex work is–and what sex workers really need.
Ep264: Sex With Timaree On December 17th Philly 2016-podcast
Bella Robinson & Maxine Doogan, Sex Worker Rights Nov 12th, 2015 ESPLER v GASCON
The Gilder Lehrman Center for the Study of Slavery, Resistance, and Abolition  2017