Safe, not seedy: How sex work changed after two decades of decrim in New Zealand Link
How sex work changed after two decades of decriminalization in New Zealand Link
Sex as work: managing brothels as mainstream businesses link
New Zealand- Court of Appeal tosses out first stealthing appeal over rape of sex worker. link
Catherine Healy & Robyn Linde in Wellington New Zealand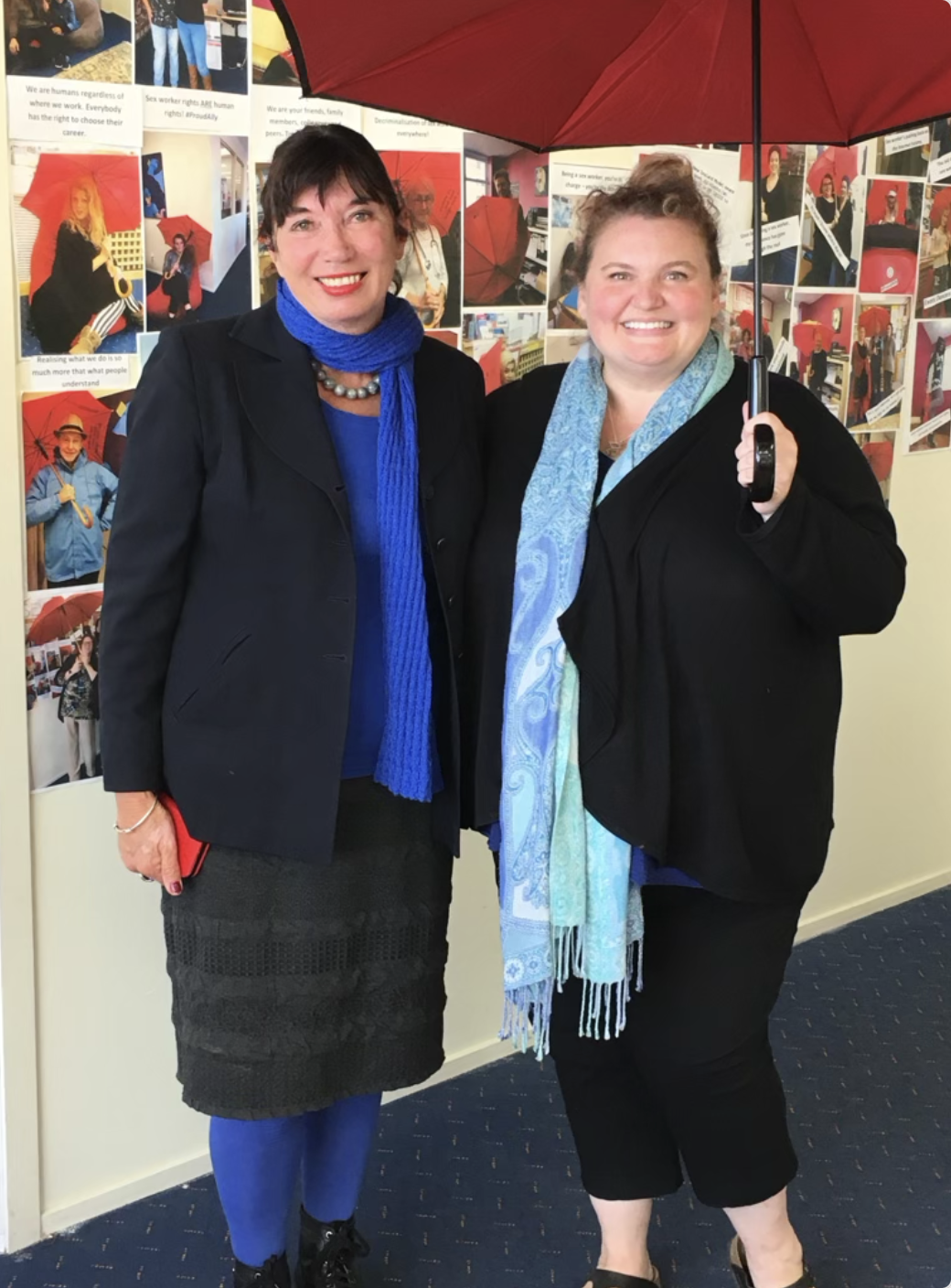 Sex work research praises 'Dunedin model- March 29th, 2021
New Zealand settlement recognizes sex worker's right to freedom from workplace harassment December 14th, 2020
Why legal rights and respect for sex workers are paramount during times of crisis– August 4th, 2020
Coronavirus update: How New Zealand has only recorded one COVID-19 death- April 9th, 2020
Decriminalize sex work to prevent trafficking and abuse–  January 11th, 2020
The Nature and Extent of the Sex Industry in New Zealand: An Estimation- 2005
Study: Migrant sex workers engage in illegal sex work to fund study and travel- Oct 10th, 2018
Calls for foreigners to be able to legally operate in New Zealand's sex work industry -Sept 25th, 2018
Call to legalize sex work by migrants-  September 1st, 2018
It's as legal as any other job. So why does stigma against sex workers persist?  August 6th, 2018
Domestic violence victims able to take out special paid leave in New Zealand– July 27th, 2018
I'm a sex worker, and Lisa Lewis doesn't speak for me-  June 22st, 2018
Almost legal: migrant sex work in New Zealand–June 6th, 2018
Illegal prostitution crackdown: 27 Asian sex workers deported– June 5th, 2018
The truth about decriminalizing prostitution– June 6th, 2018
"Queen's Birthday Honours: Dame Catherine Healy – Sex workers 'brought into the fold'– June 4th, 2018
STOP TREATING SEX WORKERS LIKE CHILDREN- May 3rd,2018
NZ sex workers forced offline due to US 'anti-sex trafficking' law | –April 28th, 2018
No trafficking in NZ sex industry but migrant abuse is widespread, the report finds= April 17th, 2018
The judicial system and sex work in New Zealand Jan 2018
Can the police ever be friends to sex workers? Nov 7th, 2017
The New Zealand Model   Oct 31st, 2017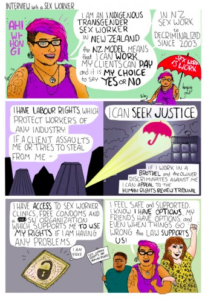 NZPC's own website updates regularly with answers to some frequently repeated myths.
The Wikipedia page (90 references to source documents)
2017- New Zealand Prostitutes Collective (NZPC)  
New Zealand Prostitutes' Collective—An Example of a Successful Policy Actor-2017
Recently (2017) there has been some media coverage on (failed) efforts to create bylaws in attempt to move street-based workers, who were originally displaced by the earthquake, from certain residential areas.  NZPC will have the latest on this, but here is a sample of the coverage –
From Law Enforcement to Protection? Interactions Between Sex Workers and Police in a Decriminalized Street-based Sex Industry-2016
The Prostitution Reform Act (2003) and Social Work in Aotearoa/New Zealand-2016
Decriminalising sex work in New Zealand: its history and impact-2015
A sex worker advocacy group has said New Zealand is the best country to be a prostitute-2015
NZ 'best place on Earth' to be a prostitute-2015
Police help short-changed sex worker July 13th, 2014
Prostitute wins damages for sexual harassment in the 'world first' case  Feb 28th, 2014
Decriminalising sex work is the only way to protect women – and New Zealand has proved that it works-2014
Occupational Safety and Health of Migrant Sex Workers in New Zealand-2013
Police help short-changed sex worker-2013
In 2013 there was a thorough review of the PRA by the NZ Justice Committee, which strongly rejected a petition calling for the 'Swedish" model instead. See Wikipedia link above, or follow this link to jump straight to the Justice Committee's 2014 "Full evidence text" pdf:
Prostitution law reform in New Zealand- July 10th 2012
For a 2007 study, Abel interviewed 772 sex workers from around the country and found 73 percent worked for the money, 87 percent regularly visited the doctor but only half announced their occupation, and 60 percent thought the police cared for their safety.
Report of the Prostitution Law Review Committee on the Operation of the Prostitution Reform Act-2003
A guide to legal models so simple even swerfs can understand it.
Decriminalising sex work in New Zealand: its history and impact
The ethics of prostitution: Selling sex out of the shadows
SEX WORK IN NEW ZEALAND: The Decriminalization Model