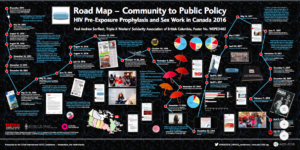 Legislative Objectives of Canada's Prostitution Laws
"They Want In": Sex Workers and
Legitimacy Debates In the Law of Public
Interest Standing link
Sex, scandal and scapegoats: Canada's blood donation policy for sex workers link
The silent majority: The typical Canadian sex worker may not be who we think. link
Sex worker movement grows as the constitutional challenge goes to court link
Canadian Sex Workers Fight for Full Decriminalization of Prostitution link
In 2014, following the Supreme Court of Canada's Bedford decision, the federal government adopted Bill C-36, The Protection of Communities and Exploited Persons Act ("PCEPA"), continuing the criminalization and stigmatization of sex workers. link
Canadian court says ignoring request to wear condom violates consent link
Nova Scotia sex worker going to small claims court over non-payment link
Op-ed: Is Newmarket's massage parlor bylaw rescue or racism? Link
Canadian Blood Service seeks to scrap lifetime ban on sex workers donating blood- 5/27/2022 link 
Student sex work is happening, and universities need to respond with health services
Conservatives call for an appeal of Ontario court decision that found federal prostitution law unconstitutional April 28th, 2021
Judge rules key federal sex work laws unconstitutional   April 22nd, 2021
Sex worker rights groups, individuals launch constitutional challenge of portions of Criminal Code March 31st, 2021
NEWS!!! SEX WORKER HUMAN RIGHTS GROUPS LAUNCH CONSTITUTIONAL CHALLENGE- March 30th, 2021
Sex Worker Advocacy Group Cuts Ties with Vancouver Police Refusal of training, a criminal case involving a former detective, and ongoing harassment of sex workers led to the split. February 11th, 2021
Support for decriminalizing sex work is at an all-time high- January 27th, 2021
30% of sex workers don't call 911 because of fear of police: study- January 26th, 2021
SWAP Hamilton's Sex Worker Archive Collection!
Ontario judge rules that Peter MacKay's sex-trade law violates the Canadian Charter of Rights and Freedoms- January 21st, 2021
Judge to rule today whether parts of Canada's prostitution laws are unconstitutional– February 21st, 2020
Wage theft: the missing middle in the exploitation of migrant workers- January 21st, 2021
Entrapping Sex Workers Cannot Be A Public Health Strategy- December 29th, 2020
Sex workers say Canada's laws put them in danger — and demand the new government fix them- December 22nd, 2019
Review of Red Light Labour: Sex Work Regulation, Agency, and Resistance- October 29th, 2019
Human trafficking rhetoric is driving Toronto's review of holistic center licensing -May 21st, 2019
Harms of Workplace Inspections for Migrant Sex Workers in In-Call Establishments: Enhanced Barriers to Health Access in a Canadian -Setting–  January 2019
First in Canada drug program to launch in Vancouver's Downtown Eastside -December 20th, 2018
Keep Your Laws Off Our Bawdies! -Dec 6th, 2018
Vancouver police to prioritize safety over anti-prostitution laws- May 12th, 2018
Valentine's Day Women's Memorial March from Thursday, February 14, 1997
The Victorian Liberals are looking to favor stringent new laws that will protect the sex work industry, but not those who work in it.–May 11th, 2018
You are here: Home / Know Your Rights / Sex Work
"They Want In": Sex Workers and Legitimacy Debates In the Law of Public Interest Standing  Dec 2017
Challenging Trafficking in Canada Policy Brief CFR is proud to publish Challenging Trafficking in Canada: Policy Brief edited by Dr. Kamala Kempadoo and Nicole McFadyen (coordinators), Phillip Pilon, Andrea Sterling and Alex Mackenzie (2017).
"Conversations That Matter – Sex Workers and PrEP at CAHR 2017" by Andrew Sorfleet-05/16/2017
Canadian Sex Workers Convene for National Consultation on PrEP by NSWP – May 5th 2017
Remembering Bedford: Impacts of Criminalization of Street-Based Sex Work Submitted by NSWP on 2nd June 2016
The New Era of Canadian Sex Work– June 15th 2015
Some sex workers choose industry due to benefits of occupation: study– Feb 9th 2017