ADVOCACY 101: HOW A BILL BECOMES A LAW [link]
ADVOCACY 101: 10 TIPS FOR TESTIFYING BEFORE A LEGISLATIVE COMMITTEE [link]
We oppose  H7539 (anti-gay, anti-trans, anti-racial justice) COYOTES Letter of Opposition [link]
We Oppose House Bill No. 7700 (Attorney General)
BY McEntee, Craven, Caldwell, Carson
ENTITLED, AN ACT RELATING TO CRIMINAL PROCEDURE — INTERCEPTION OF WIRE AND ORAL COMMUNICATIONS {LC5017/1} (Adds felony violations of Uniform Act on Prevention of and Remedies for Human Trafficking as a designated offense for an application for an order under the Interception of Wire and Oral Communications statute.) aka put sex workers, and their families and associations under more surveillance.
http://webserver.rilin.state.ri.us/BillText/BillText22/HouseText22/H7700.pdf
 Letter in Opposition to NH HB 1077
Letter in Opposition of (H7247) RI
Letter of Opposition to H7323- RI
Letter in Opposition of SB3245- HI
Letter in Opposition to SB2557- HI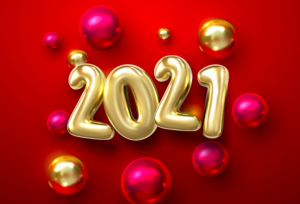 COYOTE opposes RI S2589, which increases the penalty from 1 year to 5 years and doubles the fines for spas or landlords that knowingly allow prostitution to occur.
COYOTE opposes Providence Ordinance 29263: Article XVII, "Adult Entertainment Establishments" PLEASE sign on to our opposition statement.
Coyote opposes H5270 forcing hotels to provide sex trafficking training to employees that will be created by the heavily funded trafficking task force to push their misinformation and harm sex workers
70+ Civil Rights and Social Justice Organizations Warn Against Repealing or Making Overbroad Changes to Section 230 in Wake of Capitol Attack- January 27th, 2021
SISEA, the bipartisan bill by @SenSasse &  @SenJeffMerkley
that would purge porn from social media and devastate sex workers' income during a pandemic
This fantastic @XBIZ story goes over the basics.
We saw this coming, beings that Swanee Hunt gave Boston PD 40k two years ago, to create a john school so we knew they would push the Nordic model. The arrested clients will be court ordered to attend a 900 dollars 10 hr shame-based class and the money will go to the NGO and the police to do more stings. There isn't one dollar allotted with this bill to fund subsidized housing or any other service for sex workers or trafficking victims, nor will it create jobs that pay a living wage so they know that arresting our clients isn't going to lift us out of poverty.
#Handsoffourclientsandourmoney
Understand what's going on. It's not a war on trafficking, it's a war on sex
#WarOnSexWorkers
S.1693 – Stop Enabling Sex Traffickers Act of 2017
More mass surveillance training and funding to target sex workers, under the guise of trafficking.
H.R. 1370: Department of Homeland Security Blue Campaign Authorization Act of 2017
Through the DHS Blue Campaign, the Secretary is authorized to provide guidance and training
on programs to help identify instances of trafficking; systematic and routine information sharing among the components of the Department and the National Network of Fusion Centers; techniques to identify victims of trafficking along the U.S. border; techniques for Transportation Security Administration personnel to identify victims of trafficking and serve as a liaison and resource for aviation workers and travelers; utilizing resources to promote public
awareness of trafficking, and leveraging partnerships to raise public awareness of trafficking. The Secretary is also authorized to engage in additional activities necessary to operate the Blue Campaign. This section also includes a definition of human trafficking. Additionally, this section directs the Secretary to ensure that, not later than 1 year after enactment, the information technology systems used for human trafficking-related information are integrated with each other. The Secretary shall also report to the House Committee on Homeland Security and the Senate Committee on Homeland Security and Governmental Affairs on the status and effectiveness of the Blue Campaign. Last, the bill authorizes $819,000 to carry out the section and amends the table of contents of the Homeland Security Act with a clerical amendment.
2017 Hall of Shame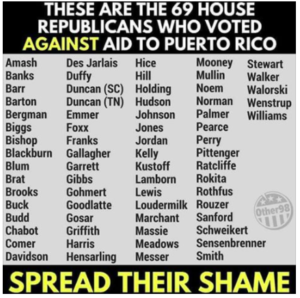 House will vote on H.R. 36, the Pain Capable Unborn Child Protection Act, on Tuesday, October 3rd: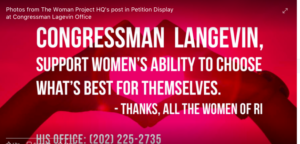 Human Trafficking (H 5300, S 73)PASSED
In February the ACLU and the Urban Justice Center testified before the House (H 5300)  and Senate (S 73) Judiciary Committee on a bill that has some laudable provisions designed to address the scourge of human trafficking, but that also had a number of problematic provisions. The bill provides immunity to trafficked minors only if they state in their defense that they were a trafficking victim – a statement many victims are not ready to make when they are arrested. Other parts of the legislation penalize behavior that was not criminal at the time it was conducted. However, the ACLU succeeded in getting removed a provision that would have turned soliciting prostitution from a misdemeanor into a felony, imposing extremely harsh penalties on individuals engaged in consensual sexual activity. This legislation was passed in the House and the Senate in June and signed by the Governor.
Don't Let Congress Censor the Internet- Petition 
There's a new bill in Congress that would threaten your right to free expression online. If that weren't enough, it could also put small Internet businesses in danger of catastrophic litigation.
Don't let its name fool you: the Stop Enabling Sex Traffickers Act (SESTA) wouldn't help punish sex traffickers. What it would do is expose the Internet content platforms that we all rely on every day to the risk of overwhelming criminal and civil liability for their customers' actions.
Video  Former Sex worker Cris Sardina director of Desiree Alliance getting arrested to defend our right to healthcare. Cris volunteered to go to DC and get arrested to defend our right to healthcare.
Don't kill me! Kill the bill! Health care is a human right!
'Hookers for health care' are fighting against Trumpcare"  July 19th 2017
NO ON  H.3003  South Carolina's H.3003– April 12th 2017
No on Oregon HB HB 2141 and HB 2142
HB 5330 is problematic for many reasons that we address our letter of opposition.
Coyote's letter of opposition to HB 5330  
2017 Regular Session Labor and employment, legal issues, crime, and judiciary
Introduced By: Representatives Maldonado, McEntee, Amore, Hearn, and Knight
Please send your letter of opposition to
Shelby Maldonado 401-222-2466-   rep-maldonado@rilin.state.ri.us
Carol Hagan McEntee 401-783-1000-   rep-mcentee@rilin.state.ri.us
Gregg Amore 401-339-9378-  rep-amore@rilegislature.gov
Jou Hearn 401-222-2457- rep-hearn@rilin.state.ri.us
Jason Knight 617-943-6532-  rep-knight@rilegislature.gov
___________________________________________________________________________________________________
A BILL "To require the Secretary of Homeland Security to enhance Department of Homeland Security coordination on how to identify and record information regarding individuals suspected or convicted of human trafficking, and for other purposes." In other words, they are funding the stalking of sex workers and will charge anyone who knows a sex worker with trafficking
H.R. 4383 (114th): DHS Human Trafficking Prevention Act of 2016