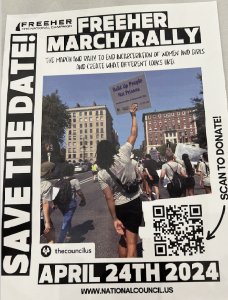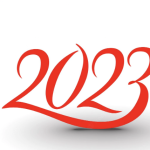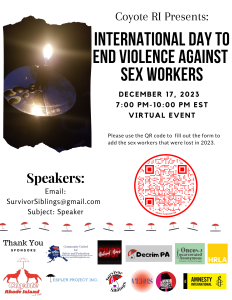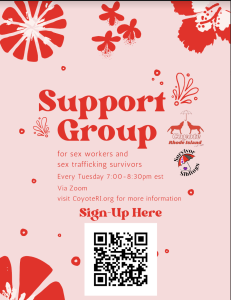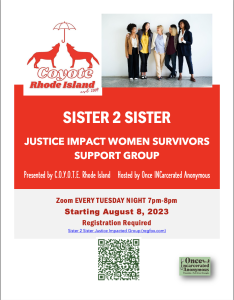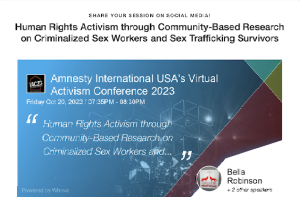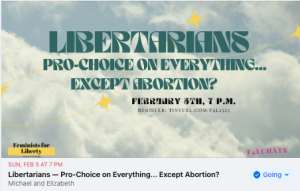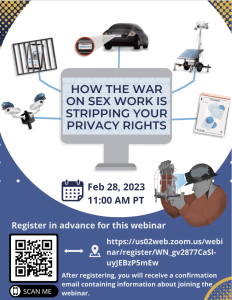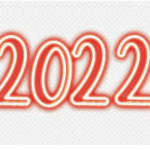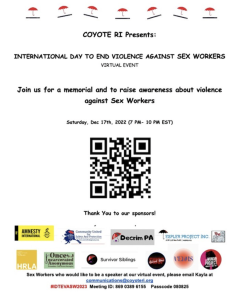 To hear about Button's Journey to meet DR Maya Angelou register here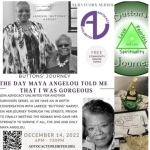 Register for #FREEHER Conference here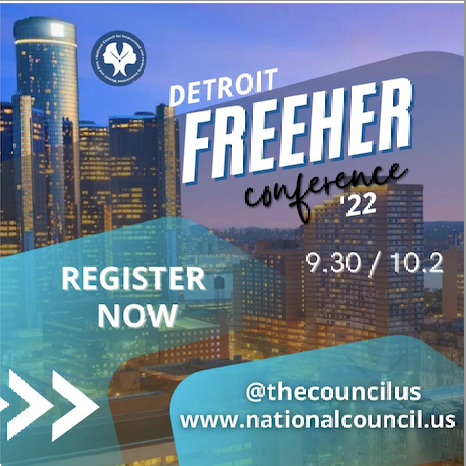 #FreeHer
#ClemencyWorks
#bootsontheground
#InMovementInSisterhood
#freeherconference22
Sex Worker Pride 2022 link
Getting To Zero: Decriminalizing Sex Work Educational Symposium- [link]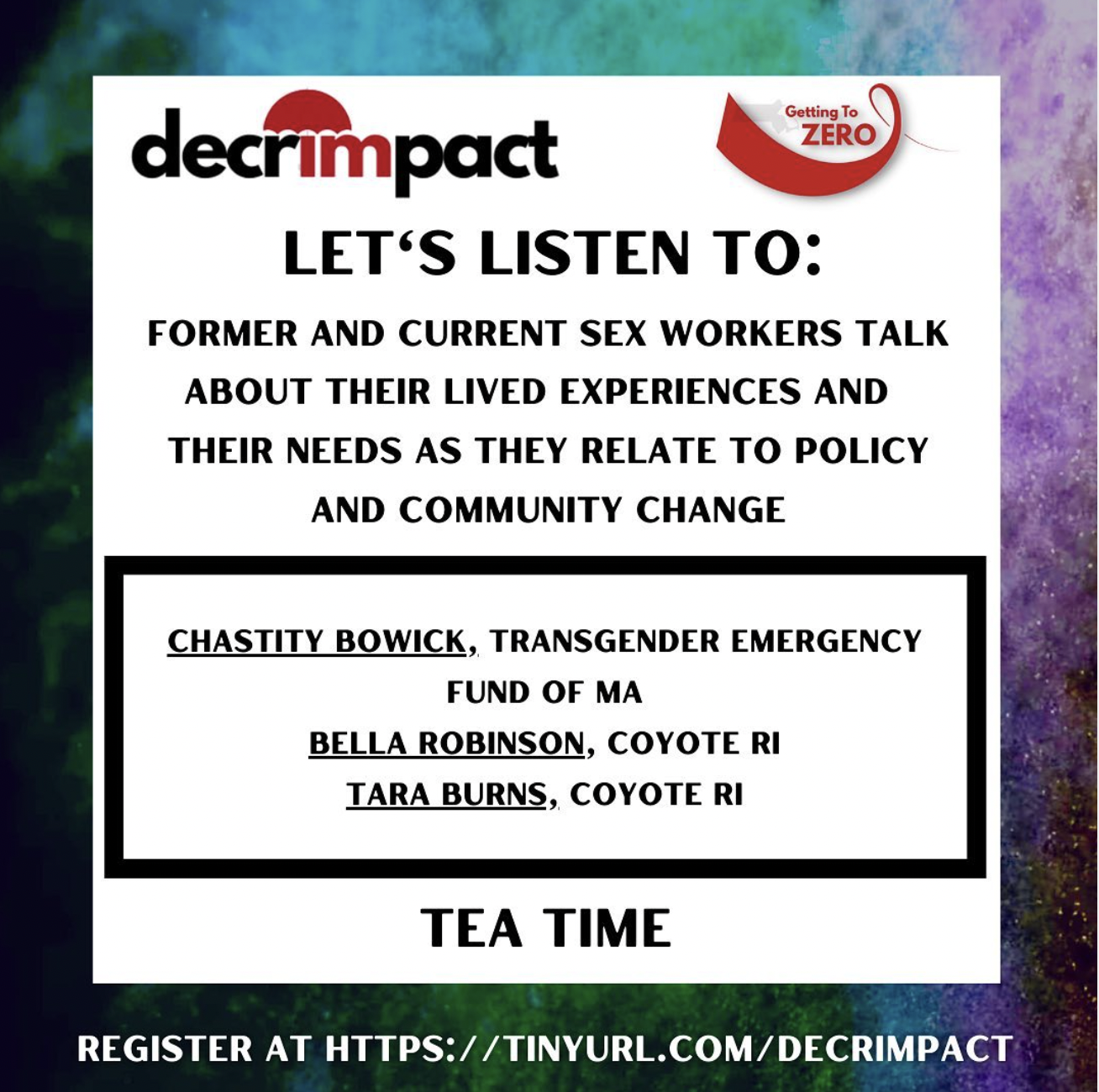 #StandwithSexWorkers  Register here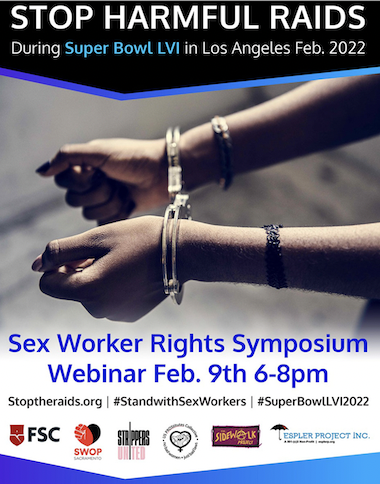 PRESS RELEASE Formerly Incarcerated Activists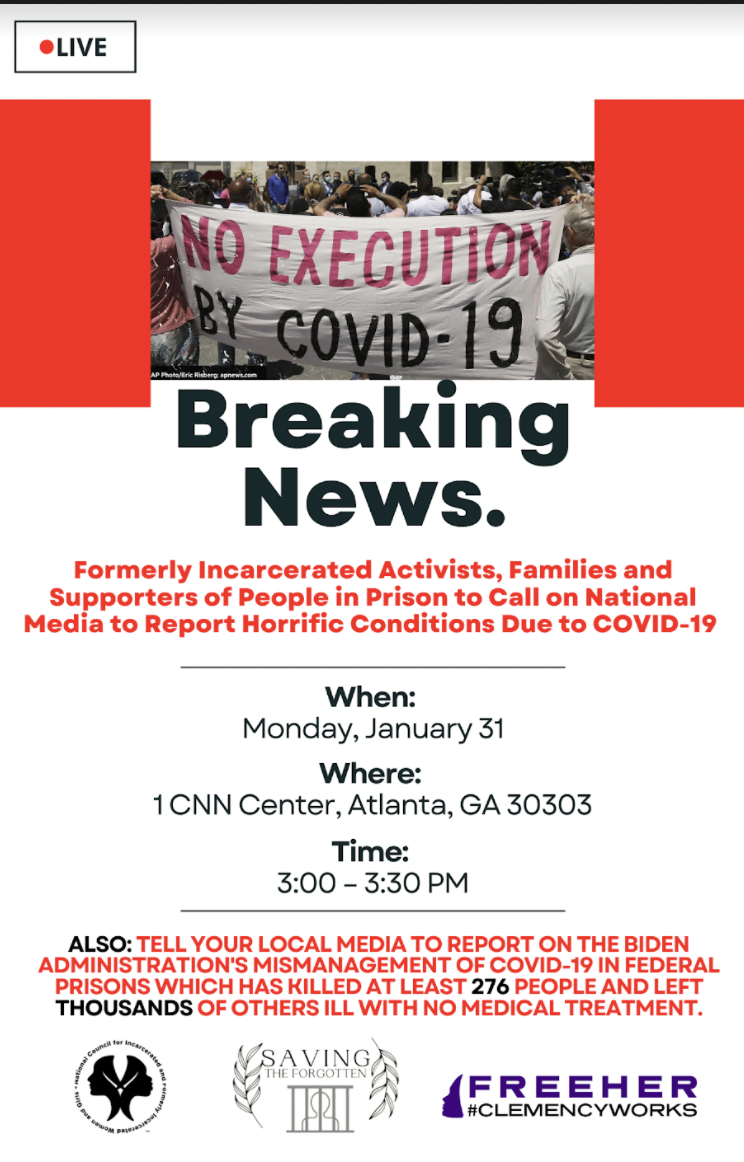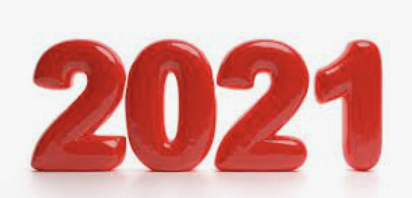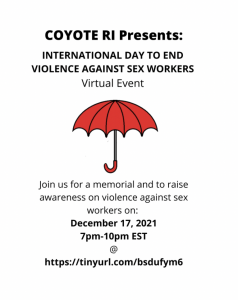 _2021 IDTEVASW Memorial list for the US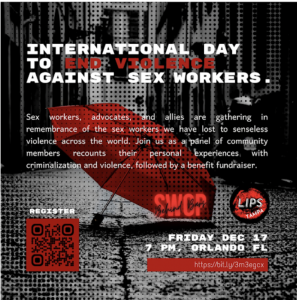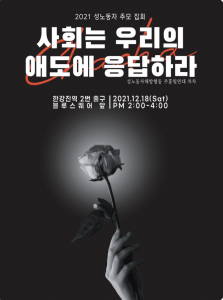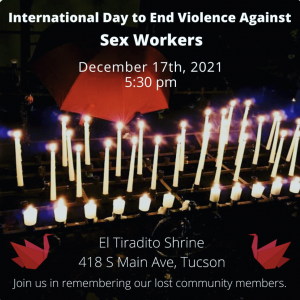 COYOTE will be speaking on a panel at the National Council for Incarcerated and Formerly Incarcerated Women and Girls, 2021 FREE HER conference in Boston Oct 1st-2rd.   The virtual conference will be held on Sunday, Oct 3rd from 6- 8 pm.  Please register at  https://tinyurl.com/FREEHER2021  Follow us online  @thecouncilus @coyoteri  #FREEHER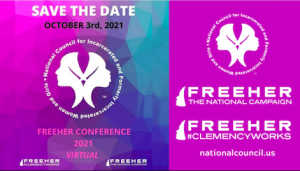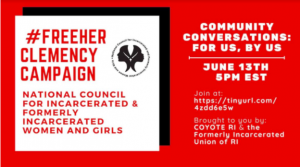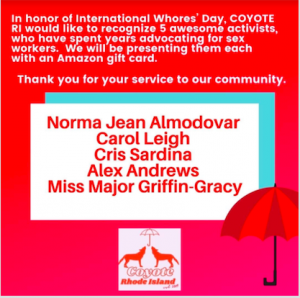 Liberating Women: For Us, by US- Zoom Link: April 11th, 2021 at 5 pm est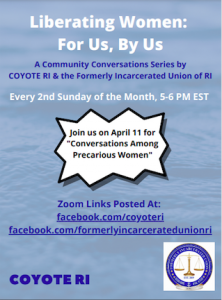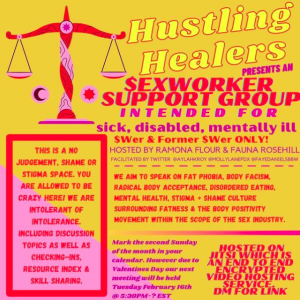 Register at bit.ly/ricmissmajor to attend.
Major! RIC Film Screening   Password-   ricpride2021

Celebration of Life for Margo St James- the founder of COYOTE- tickets available [link]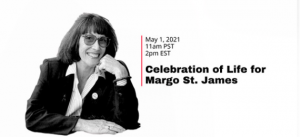 We are excited to announce an ONLYFANS survey out of Rutgers. A huge thank you to Jay Bosworth, for including COYOTEs input on the survey questions and for supporting New Jersey Red Umbrella Alliance.
December 17th – 2020 International Day to End Violence Against Sex Workers- Memorial Video
Join us on Zoom on Dec 17th, 2020 from 9 am to midnight, click on the zoom link to join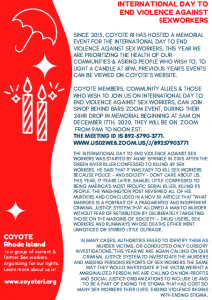 Lecture  at Rutgers Dec 14th,  2020
Texas Christian University Symposium February 7th, 2019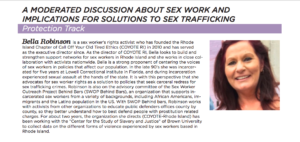 The 2018 USA International Day to End Violence Against Sex Workers Event List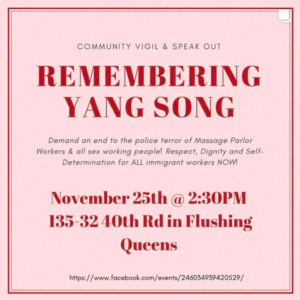 Transgender Day of Remembrance 2018 Memorial List
Trojan Scholar Spotlight: Sexual & Reproductive Health and Rights at USC -October 23rd, 2018  Livestream here
Symposium- Naming (In) Justice- Ohio State- October 18, 2018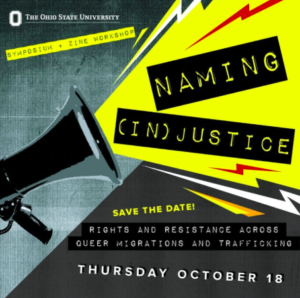 Texas Christian University September 25th, 2018
Below, Nino, Bella, and Ester at  Texas Christian University Presentation by Coyote Sept 25th, 2018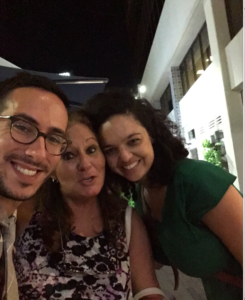 #SFS18 Day 2 Workshop 2: FOSTA! How Congress Broke the Internet  Livestream here: 
June 2st, 2018 International Sex Worker Day Events
Providence, RI
Take Back the Neighborhood: Rally 4 Against Criminalization

Saturday, June 2st 2018, 12 pm to 2 pm

Location: Roger William Memorial Park (282 N Main St, Providence, RI 02903)
For more information contact bella@coyoteri.org
New York:

Time: 2-4 pm on June 2
Location: Christopher Park across from Stonewall Inn
Contact for questions: survivorsagainstsesta@protonmail.com
Chicago:
Time: 12-1:30 pm on June 2
Location: Daley Plaza Chicago Loop at the Picasso sculpture
Contact: LeahLev4@gmail.com
The additional workshop on digital security (for sex workers only) on June 3, details to come soon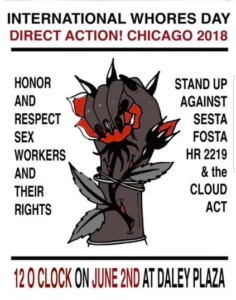 Bay Area ( Oakland CA)
Time: 12 – 4 pm on June 2
Location: Oscar Grant Plaza (14th Street and Broadway, Oakland)
Details: bring signs and friends/allies and wear red!
Contact: arabelleraphael@protonmail.com
Twitter: @BayProsSupport
San Francisco
Protest FOSTA/SESTA / Picket Clusterfest & Anti-Sex Work Comic Amy Schumer!- Saturday, June 2nd, 2018, at 4 pm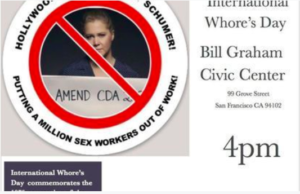 Funeral for the Death of Safer Sex Work on Intl Whores Day – SWOP SEATTLE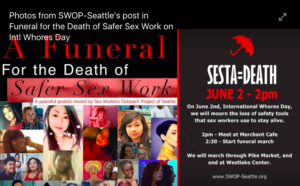 D.C.
Time: 2 pm on June 2nd
Location: Eastern Market Metro station
Organizations:
Las Vegas
Time: 9 am gathering, 10 am begin marching before the rally on June 2nd
Poster Making Social 3:30 to9:30
Ohio- June 2nd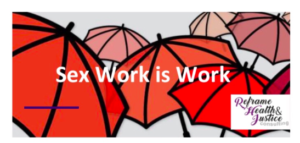 Philadelphia- June 1st
#SurvivorsAgainstSESTA
Philadelphia PA Sex Work Lobby Day 6/1
JUNE 2ND-  FB event page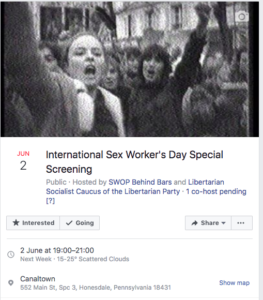 ---
The Sex Ed with Liz Goldwyn, Nina Hartley, and Dita Von Teese May 22st, 2018
Righting Carceral Feminism's Wrongs in a #MeToo Era-March 6th 2018
March 15th, 2018- NY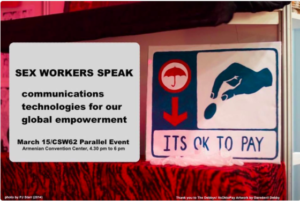 EMPOWER Collective Visiting Philadelphia-  March 12th, 2018
Jill McCracken

and

Alex Andrews from SWOP Behind Bars

 are at AVN in Las Vegas and they stopped in to see

Ramona Flour
at the Chaturbate booth Jan 25th, 2018
At #clpp2017 and sex workers well welcomed and engaged in the reproductive rights movement talking about mass incarceration, motherhood, community and women's healthcare! Knowledge is power!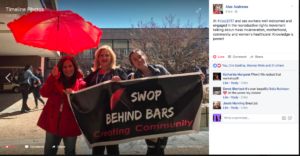 Since when did persecuting sex workers stop human trafficking?  by Scholar Bella Robinson
Addressing the FBI and Polaris Project regarding their failed approach in Super Bowl sex trafficking by Scholar Bella Robinson
New Hampshire May See Decriminalization of Sex Work March 2nd, 2016
Desiree Alliance New Orleans 2016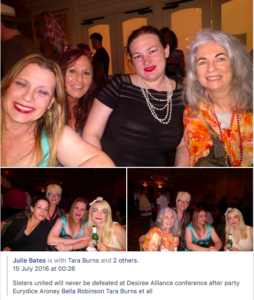 Leadership class at the 2014 Northeast Summer School for Union Women.