Let's take a closer look at how the media covered this story.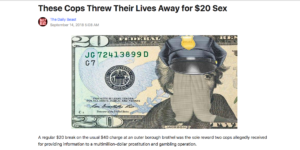 7 NY police officers have been arrested for running 8 NY brothels. They used women from Central America  and yet the media doesn't mention the word trafficking. This shows how much prosecutors and the police control the narrative in the media, because usually when a few sex workers who work together get arrested for prostitution the police and the media report that it is a sex trafficking ring.
By the 3rd day of the media reporting on the story, the narrative started to change.
The prosecutor recounted an incident in which honest cops had arrested a prostitute at the organization's brothel in Sunset Park, Brooklyn. Samaniego had learned the Human Trafficking Bureau at the Brooklyn district attorney's office was looking into the case.
"Upon discovering that Human Trafficking was interested in a simple prostitution arrest, he immediately leaped into action, reporting to the organization exactly what he was told to the point… that the intelligence from the Kings County District Attorney's Office investigation [that] was provided to him was then provided immediately to the organization."
The organization had then communicated with the prostitute who had been arrested, providing her with a script to recite while still in custody to the Human Trafficking Bureau so as to misdirect its investigation, the prosecutor said. This conduct was egregious," the Queens prosecutor said in summing up Samaniego's action. "It is far beyond any of the other officers that are charged here today."
Yet from coast to coast human trafficking organizations, who are part of local trafficking task forces have always been allowed to groom sex workers and pressure them to report that they were forced and raped by tons of men. Now the cops don't like the same narrative that they have been promoting since 2000.
GROUP THAT OPPOSES SEX WORK GAVE MONEY TO PROSECUTORS' OFFICES — AND GOT STINGS AGAINST JOHNS IN RETURN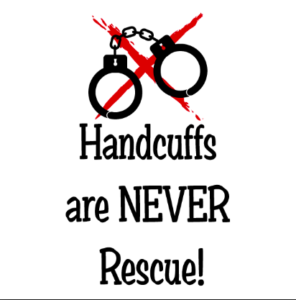 Vice stings targeting so-called "massage parlors" exploded in recent years, primarily in Chinese immigrant neighborhoods in Queens and Brooklyn. According to a 2017 report from the Urban Institute and the Legal Aid Society, arrests of Asian-identified people in New York City charged with both unlicensed massage and prostitution increased by 2,700 percent between 2012 and 2016.
Over 18,000 women have been dragged through NYC prostitution diversion court over the past few years. 91% of them are Asain women. The court mandates them to participate in some fake services which include the free yoga classes, some shamed based counseling, and immigration services.  However, the program does not provide them with any of the vital services that they need such as affordable housing, jobs that pay a living wage or access to money.
Update January 2018
"Rape allegations for having sex with the minor, identified in court only as SG, will be adjudicated in Bronx criminal court at a later date.
Yet the NYPD Advocates office, which prosecutes police misconduct, is pushing to get Olmeda fired. The department trial will determine if he should get kicked off the force. "
So I guess you can have a rape charge in criminal court and still work for NYPD
Follow up November 2018
The New Brothels: How Shady Landlords Play a Key Role in the Sex Trade

UPDATE August 2019- Amazingly none of the cops were charged with sex trafficking 
Want the Truth About New York's Human Trafficking Courts? Ask a Sex Worker
The Woman Who Fought and Won Against New York's Special Prostitution Courts
ICE Targeting Sex Workers for Deportation: Village Voice Report
A US Border Patrol agent has been arrested in the state of Texas on suspicion of killing four prostitutes 
FAMILY, FORMER ATTORNEY OF QUEENS WOMAN WHO FELL TO HER DEATH IN VICE STING SAY SHE WAS SEXUALLY ASSAULTED, PRESSURED TO BECOME AN INFORMANT
Beyond Strange Bedfellows- How the "War on Trafficking" Was Made to Unite the Left and Right-