HOUSE BILL  The hearing will be held at the State House, room 100  at 107 N Main St, Concord, NH 03303, on Tuesday,  February  20th, 2018 at 9:15 AM. Here is the list of the 5 Judiciary Committee members to email in your letters of support.
In Support of NH HB 287
My name is Bella Robertson, executive director of Coyote RI (Call Off Your Old Tired Ethics). I am writing you today in support of NH HB 287.
Here are the videos of prior HB 287 hearings to help catch you up on what took place
Video 2- Jan 28, 2017  (Note some committee members admit that they didn't bother to read over 100 letters in support of HB287)
During 2017,  Donna Hughes held a private lunch- trafficking conference for NH legislators. The public, the media and sex workers were prohibited from attending. Donna Hughes provided the legislators with materials full of false statistics on sex trafficking, and yet we know that there is no evidence-based research anywhere in the world that proves that prostitution increases or causes trafficking.  Maybe we should be asking ourselves, why Donna Hughes refuses to show up when sex workers are present.
These debates have become particularly fraught in Rhode Island. Donna M. Hughes, a professor at the University of Rhode Island, was the leading academic pushing for the criminalization of sex work in Rhode Island. Hughes is a member of the Rhode Island interagency task force on trafficking persons and was a major opponent against the opening of the Center for Sexual Pleasure and Health (CSPH) in Pawtucket. Her work and organizational experience made her one of the biggest ideological proponents of the push to criminalize indoor sex work in Rhode Island. Furthermore, she has published numerous articles on the 'trafficking problem' in Rhode Island. Her articles against indoor prostitution in Rhode Island follow similar themes: (1) determining the existence of a large transnational criminal network that traffics women and children from various countries; (2) the conflation of labor trafficking with sex work; and (3) asserting the need for a carceral approach through the strengthening of police repression.
Donna Hughes collaborated with Katherine Y. Chon and Derek P. Ellerman (both of whom co-created the anti-human trafficking Polaris Project) on a research study. The three did research on prostitution in South Korea, where they made the claim that trafficking within South Korea was connected to the forced trafficking of South Korean women to massage parlors in the United States. They claimed that this would be the first to study the 'trafficking of women' in South Korea, discounting previous documentation done by Korean and other Asian non-governmental organizations. Furthermore, for this research, the author conducted 36 interviews; more than half of the interviewees are of law enforcement, ten are social service providers, six are reporters and one is a researcher. None of these people are trafficked women or sex workers who have worked with trafficked women. Sealing Cheng, a professor at the Chinese University of Hong Kong, criticized Hughes' work on South Korean prostitution for erasing and erroneously portraying the research that had been done in the anti-trafficking field by various people in South Korea with with far superior methods; conflating of human trafficking with forced prostitution; and rendering invisible the general dynamics that push people into sex work is the same reasons that other people do and that a large portion of abuse comes from immigrant boundary controls.
While Donna Hughes was making arguments against the decriminalization of indoor prostitution, during 2013 letters were sent by academics to the Rhode Island State House in support of Rhode Island's indoor prostitution law. Academics such as Ronald Waiter, a sociologist who specializes in criminology from George Washington University, composed a few letters noting that compared to street work, indoor sex work is generally much safer: there are lower rates of sexually transmitted infections, better working conditions, and lower rates of getting assaulted or robbed. In addition, the majority of indoor sex workers have not been trafficked against their will, instead, they have made the conscious decision to enter the trade. This academic opposition to criminalization, along with the methodological problems that come with trying to determine sex trafficking victims, was not really discussed or mentioned in the public campaign for the criminalization of sex work in Rhode Island.
Since then more evidence-based research has been done that revealed that while indoor prostitution was decriminalized in Rhode Island that rape went down 40% and gonorrhea went down 30% for the entire state of Rhode Island. Decriminalizing Indoor Prostitution: Implications for Sexual Violence and Public Health∗ Scott Cunningham Baylor University Manisha Shah University of California, Los Angeles & NBER August 2017
While Hughes has criticized this research, let's not forget that all her research is based solely on her opinion, with no data to back up her claims, and she never even interviewed anyone involved in the sex industry. Future more Katherine Y. Chon the co-founder of Polaris Project spend years testifying to law enforcement and government officials claiming that the average age of entry into prostitution in the US was 13 or 14.  Bella Robinson, executive director of Coyote RI confronted Chon about these fake statistics at her alumni event at Brown University in 2015 which lead to Polaris Project retracting their claim and replacing the average age of entry in prostitution to be 17 to 24. We have seen nationwide that trafficking organizations and law enforcement keep repeating these fake statistics to legislators in order to solicit more funding.  Sex Workers are documenting these experiences at ratethatrescue.org
There is no human trafficking epidemic in the US, per the FBI 2016 trafficking numbers
You can see in the chart below that there were only 1007 sex trafficking cases, and only 595 of them were confirmed and cleared,  so in reality, there were only 595 sex trafficking cases for the entire country in 2016. New Hampshire did not report any trafficking cases to the FBI for 2016.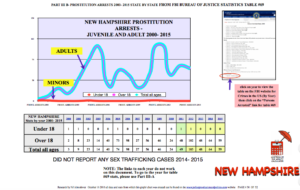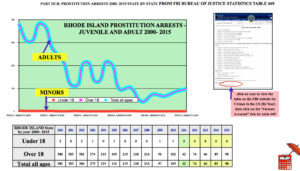 Letters of support

MEDIA- Those testifying in support of NH HB 287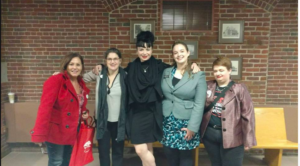 (Left to right)
Bella Robinson,   Jill McCracken,  Siouxsie Q James,  Representative Elizabeth Edwards and Leslee Ann Petersen,