"We Don't Need Your Pity, We Need Our Rights:" Understanding the Experiences of Sex Workers within the HIV Continuum of Care in the United States Julianna Brown April 20, 2018, Health and Human Biology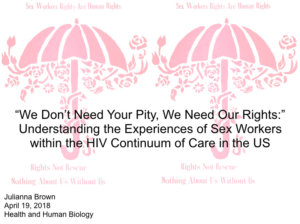 Prosperity Now Scorecard highlights strengths and weaknesses in Rhode Island's ability to help families prosper- Feb 8th, 2018
There's Now A Study Backing Up Link Between Police Shootings, Racial Segregation- Feb 8th, 2018
Thousands of Marijuana Citations Issued Since Possession Decriminalized Study also finds racial disparities in rates of citations issued to African Americans and whites in cities that provided demographic data
ACLU Report: RI lawmakers created 170 new crimes, harsher penalties since 2000– Jan 30th, 2018
RHODE ISLAND'S STATEHOUSE-TO-PRISON PIPELINE How "Tough-On-Crime" Lawmaking Results in Overcriminalization and Mass Incarceration Jan 2018
Prostitution decriminalized: Rhode Island's experiment  BY ELANA GORDON- August 3rd, 2017
Decriminalizing Indoor Prostitution: Implications for Sexual Violence and Public Health by Scott Cunningham and Manisha Shah-2017
Decriminalising prostitution could 'dramatically' reduce sexual violence and STI transmission, finds study Dec 20th, 2017
Slideshow on US Sex Worker survey 
Trending Globally: Politics and Policy – Episode 4 – Sex Work Is Work- Dec 2016
Sex workers' rights activist Bella Robinson (Coyote RI)  and sociologist and Watson postdoctoral fellow Elena Shih discuss the "trafficking" and "rescue" narratives muddying the reality of what sex work is–and what sex workers really need.
Donna Hughes, URI professor of sex worker demonization
Major props to Emily Schell,  another Brown University student that I had the pleasure of collaborating with this semester.- May 2016  https://decriminalizenow.wordpress.com
BRIGHT STAR  May 11th 2016
The Last Rescue of Brown University – May 11th 2016
Policing Identity: Intersections of Race, Gender, and Sexuality in the PIC (A Recap in Tweets) APRIL 27, 2015 by CHERISE MORRIS
'Happy Endings?' is a documentary that explores the Asian Massage Parlor industry in Providence, RI. Follow 'Heather' a Korean immigrant, who opens a spa in August 2005, in a state where a loophole in the law does not make the exchange of sex for money a crime, as long as it happens "behind closed doors".