Columbus statue splattered with red paint By Steve Ahlquist on October 9, 2017
Survey illustrates challenges for transgender and gender non-conforming Rhode Islanders By Steve Ahlquist on October 13, 2017
Burrillville shines at EFSB's last public comment hearing By Steve Ahlquist on October 12, 2017
Forum explores DCYF problems; speakers include key players, those who grew up in foster care Oct 11th 2017
Trump's moves against reproductive rights renew calls for state level action By Steve Ahlquist on October 7, 2017
Migrant Justice signs dairy farm worker human rights agreement with Ben & Jerry's By Steve Ahlquist on October 4, 2017 
The March for Racial Justice in Rhode Island By Steve Ahlquist on October 2, 2017
Invenergy announces water deal with Narragansett Tribe By Steve Ahlquist on September 28, 2017
Pokanoket statement on the agreement with Brown University  By Steve Ahlquist on September 26, 2017
RI Speaker Nicholas Mattiello: 'I support DACA.' By Steve Ahlquist on September 26, 2017
Serving up some old time religion at Wexford groundbreaking By Steve Ahlquist on September 25, 2017
Pokanokets reach agreement with Brown University By Steve Ahlquist on September 25, 2017
Milk With Dignity: Vermont dairy farm workers want Ben & Jerry's to honor their human rights By Steve Ahlquist on September 22, 2017
Youth-led social justice activism in Rhode Island  By Steve Ahlquist on September 21, 2017
DARE smashes piñatas in protest against high rents, evictions and public subsidies for luxury housing By Steve Ahlquist on September 20, 2017
Bill to protect domestic violence victims from gun owners passes General Assembly By Steve Ahlquist on September 20, 2017
WJAR forced to run pro-Trump programs– Sept 16th 2017
Wagner on transgender policy: "You can't force people to love" By Steve Ahlquist on September 13, 2017
Dreamers speak out at Defend DACA Rally  By Steve Ahlquist on September 9, 2017
Groups urge RIDE to adopt statewide policy for transgender students By Nicole Cordier on September 7, 2017
R.I. joins federal lawsuit challenging Trump's DACA phaseout-Sept 6th 2017
Experts question legality of I-93 customs checkpoints- Sept 2st 2017
Pokanokets march on Brown University as negotiations over Mt Hope land continue  By Steve Ahlquist on September 6, 2017
CNAs, care providers kick off Labor Day with a demand for $15 minimum wage By Steve Ahlquist on September 1, 2017
Burrillville asks EFSB to dismiss Invenergy application because it's incomplete By Steve Ahlquist on September 1, 2017
Ex-Students Testify on Prostitution at Brown Dec 8th 1987
Burrillville asks EFSB to dismiss Invenergy application because it's incompleteBy Steve Ahlquist on September 1, 2017
Revised State Police policy on ICE detainers interrogated by advocacy groups  By Steve Ahlquist on August 30, 2017
 Po Metacom Camp, RI– August 21, 2017  A compelling historical look at the struggle of the Pokenoket Nation, with Raymond L. Watson (Raymond Two Hawks), FANA Director General Neesu Wushuwunoag, discussing the history of the King Phillip's War and importance of the Po Metacom Camp.
The Pokanoket Encampment-From the Steering Committee of the Native American and Indigenous Studies InitiativeAugust 24, 2017
Brown doesn't decide who gets to lay claim to indigenous lands By Bella Noka on August 25, 2017
Work sharing is a win-win policy for our businesses and employees BY ALAN BARBER, OPINION CONTRIBUTOR – 08/22/17 05:00 PM EDT
Assembly leadership needs to see a big threat to status quo before protecting reproductive rights say legislators By Steve Ahlquist on July 30, 2017
Including Rhode island, nine states seek to expand Regional Greenhouse Gas Initiative By Steve Ahlquist on August 24, 2017
Unmoved by public testimony, PUC approves 'outrageous' National Grid rate increase  By Steve Ahlquist on August 23, 2017
Providence school principal accused of failing to report sexual abuse- August 22st 2017
Video and photos from the Pokanoket Nation encampment By Steve Ahlquist on August 21, 2017
Settling into the second evening at the #PoMetacomCamp.
If you are able to, please send supplies to keep the Camp going strong: http://a.co/ilt6Cnv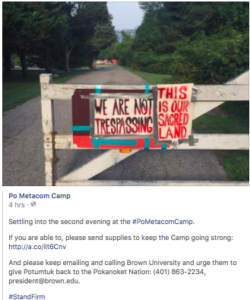 A clambake and a protest for Sheldon Whitehouse at Kempenaar's on Sunday  By Lauren Niedel on August 21, 2017
Pokanoket Tribe occupies Bristol land, say it belongs to them not Brown By Bob Plain on August 20, 2017
Led by women of color, thousands march against white supremacy in Boston By Steve Ahlquist on August 20, 2017 
JUDGE DISMISSES CHARGES AGAINST NARRAGANSETT RESIDENTS FOR VIOLATION OF UNCONSTITUTIONAL HOUSING ORDINANCE-August 16th 2017
Invenergy refuses to answer Burrillville's data request about water sources By Steve Ahlquist on August 16, 2017
Danger in R.I. group homes  By Tom Mooney / and Jennifer Bogdan August 12th 2017
Building Trades urge Elorza not to join lawsuit against Invenergy By Steve Ahlquist on August 11, 2017
Providence begins discussion of Municipal IDs By Steve Ahlquist on August 10, 2017
Black Lives Matter demands diversity on 630WPRO  By Steve Ahlquist on August 1, 2017
Budget impasse is over but Speaker Mattiello is still on the hook By Steve Ahlquist on August 5, 2017
Representative Walsh adds her voice to Free Hugo Mejia By Steve Ahlquist on August 4, 2017
Judge sides with ACLU, puts Cranston's anti-panhandling law on hold By Bob Plain on August 3, 2017
Standing against Trump's assault on transgender rights in Rhode Island By Steve Ahlquist on July 30, 2017
 
 Providence City Council will consider joining CLF lawsuit against Invenergy, Johnston By Steve Ahlquist on July 24, 2017
Trump tax cuts a massive giveaway to the richest one percent of Rhode Islanders says report By Steve Ahlquist on July 20, 2017
Sheldon Whitehouse gets cookies for healthcare, castigated for BurrillvilleBy Steve Ahlquist on July 19, 2017- Backstory,  back in 2014 Senator Whitehouse refused to meet with Coyote RI and it took us 4 months to get an appointment with his policy advisor Rele Abiade. While Whitehouse was the chair of the crimes and terrorism committee which the 2014 Save Act fell under, he supported this horrible bill which turned into the 2015 Justice for Victims of Trafficking Act (JVTA). Whitehouse doesn't seem to know the first thing about the topic and of course he hasn't taken any action about RI having 320 unlicensed foster homes in 2016 and he yet all for stealing our first amendment rights by trying to censor the internet under the hysterical guise of SAVE THE CHILDREN from evil traffickers. Meanwhile the US has 2.5million homeless kids and our foster care system has been broken for decades. So basically they threw kids under the bus so they could rationalize the war against adult sex workers
Raimondo's governor's conference confronted over inaction on climate change By Steve Ahlquist on July 15, 2017
Once again, the ACLU sues Cranston over panhandling By Steve Ahlquist on July 18, 2017
Governor Convention protesters to be limited to a 'designated area' say police  By Steve Ahlquist on July 13, 2017
MORE THAN 20 ORGANIZATIONS CALL ON GOVERNOR TO VETO BILL THAT WOULD LET LAW ENFORCEMENT LOOK INTO YOUR MEDICINE CABINET WITHOUT A WARRANT–July 17th 2017
Maybe Senator WhiteHouse shouldn't have refused to meet with RI sex workers while he supported the horrible bills like "Save Act of 2014 which turned into the Justice for Victims of Trafficking Act of 2015".    In February 2014  Coyote RI was granted a meeting with Rele Abiade,  who is Senator Sheldon's policy advisor.
George Wiley Center confronts National Grid at their sponsored Waterfire
By Steve Ahlquist on July 9, 2017
Council candidates clash over racism in final forum before primary By Steve Ahlquist on July 7, 2017
Repro rights activists deliver petition to Speaker Mattiello's law office in Cranston By Steve Ahlquist on June 29, 2017
A second attack on the energy efficiency program at the General Assembly poised to pass By Steve Ahlquist on June 28, 2017
Why did recent war games in PVD, Newport target communities of color? By Lauren Niedel on June 22, 2017
Big win for opponents of Burrillville power plant in Superior Court By Steve Ahlquist on June 20, 2017
ICE agents arrest Syrian man outside Providence courthouse  June 13th 2017
Army practices urban warfare in Providence and Newport, angering residents By Steve Ahlquist on June 11, 2017
Amid tensions between city and community, Mayor Elorza signs the CSA into law  By Steve Ahlquist on June 8, 2017
Providence City Council passes the Community Safety Act  By Steve Ahlquist on June 2, 2017
Providence's Secret Police-May 31st 2017-
EPI reports on 'The State of Black Families in Rhode Island' By Steve Ahlquist on May 20, 2017
With all issues resolved, Community Safety Act now ready for final passage By Steve Ahlquist on May 26, 2017
Catching up with the Community Safety Act: Where does it stand right now? By Steve Ahlquist on May 12, 2017
Activists challenge Cranston's anti-panhandling ordinance, police respond By Steve Ahlquist on March 28, 2017
Cranston police ticket leafleters protesting anti-panhandling ordinance + video-By Alisha A. Pina-March 27th 2017
The Rhode Island President Trump MAGA Rally By Steve Ahlquist on March 26, 2017
Cranston City Council passes anti-panhandling ordinance on party lines By Steve Ahlquist on February 16, 2017