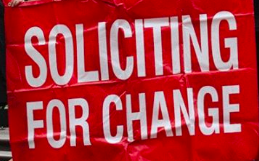 The USA Further Endangers Sex Workers and Threatens Internet Freedoms.
Sex Workers are dying and are at an increased HIV risk under the recent passing of USA policy (SESTA/FOSTA) with global implications.  
The legislation SESTA/FOSTA,  signed by President Trump on April 11th, 2018, shuts down websites where sex workers advertise, and it removes the online safety tools that sex workers use to ensure their safety.
Specifically, this legislation makes it a crime to operate or manage a website that "promotes or facilitates prostitution," vastly expanding liability for sites that host any content on which sexuality may be discussed. This has far-reaching implications for safety and freedom of expression and for other countries worldwide on top of the stigma and criminalization sex workers already live under. The UK, Australia and New Zealand are already under threat of replicating these dangerous US laws.
When sex workers cannot vet their clients online, they don't know if they're a potential risk. Sex workers around the world have immediately felt the effects of the new law – loss of work, bodily autonomy, and increase in violence, murder, and HIV infection. The new law also threatens those seeking or posting about harm reduction for sex workers on websites.
Coyote RI ran an "After Fosta survey" on 260 US sex workers, within 2 weeks of Fosta being signed into law.  Those findings revealed a huge increase in violence and exploitation.
Between 2003 to 2009 when indoor prostitution was decriminalized in Rhode Island, the study "Decriminalizing Indoor Prostitution: Implications for Sexual Violence and Public Health" revealed that gonorrhea had decreased by 40% and rape had decreased by 30%.
Not only does access to online platforms help reduce violence and exploitation for sex workers. These platforms reduce the risk of violence to all women who meet men online. Scott Cunningham of Baylor University, findings revealed that once online platforms like craigslist became available that they saw a 17% reduction in female homicides.
SESTA/FOSTA further criminalizes sex workers putting them at higher risk for violence, exploitation and contracting HIV. The most efficient way to decrease sex workers' HIV risk is to decriminalize sex work, as noted in the Lancet 
PREVENT HIV REPEAL SESTA/FOSTA NOW!
Sex-workers from across the world attended Aids Conference 2018 and demanded the repeal of SESTA/FOSTA. They also led direct action targeting global policymakers demanding the repeal of "condom for evidence laws" that undermine the health and safety of sex workers, and the general public.
Julianna Brown, Health Policy Advisor of Coyote RI,  Presenting her Poster Project.
Sex Workers March for their Rights at #Aids2018 (Video 1)
Sex Workers march for the rights at #Aids2018 (Video 2)
Sex Work is Work, #Aids2018  (Video 3)
Meanwhile, EMPOWER has been arresting specific health ministers/ppl associated with the global fund and getting lots of signatures for a subpoena regarding support to end condom as evidence laws!
UPDATE: Empower police have arrested 160 delegates for suspicion of prostitution closed eight networking boots suspected of promoting prostitution seized over 1000 condoms. Our subpoena is signed by over 200 people will be served on the global fund and UN aids.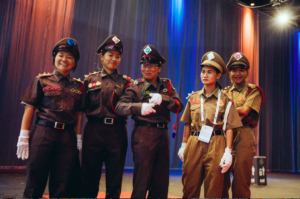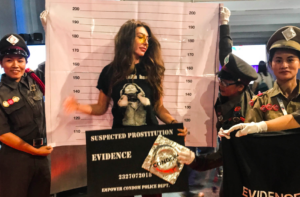 Bill Clinton AIDS speech in Amsterdam disrupted by protest
End Demand Laws Do Not Help for Sex Workers Access to Care-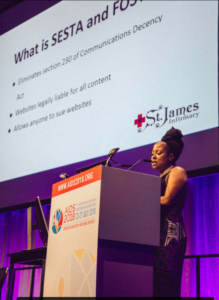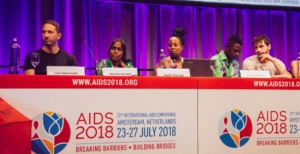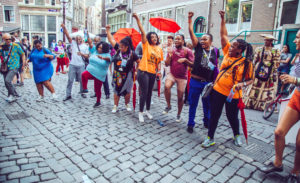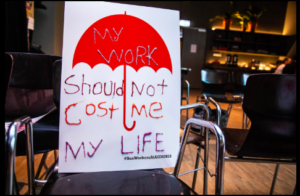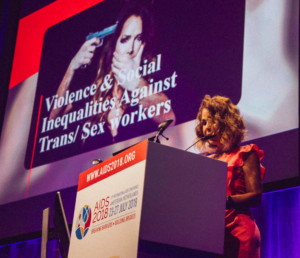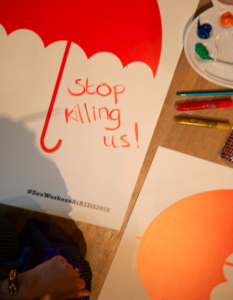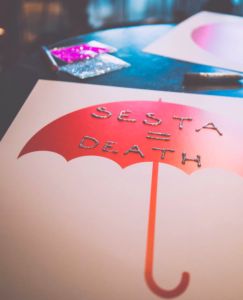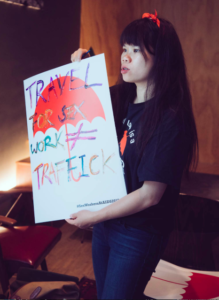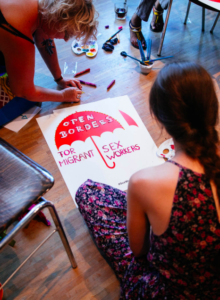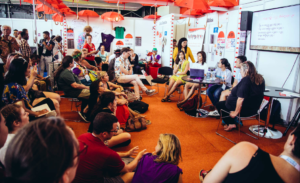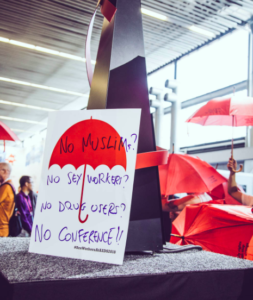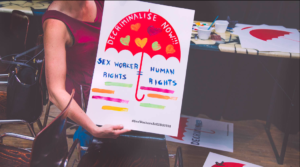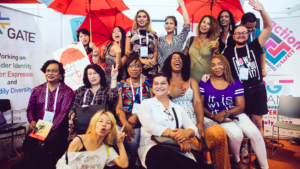 SEX WORK IS REAL WORK!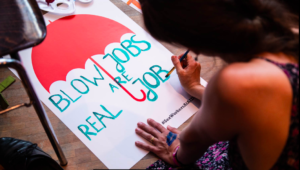 Sex workers at the International AIDS conference 2018, in Amsterdam. here
For more photos click here  and here
 Sex Workers at the 22nd International Aids Conference, NSWP – 2018