WHAT DO SEX WORKERS WANT?
Decriminalization, Labor Rights, Anti-discrimination Legislation
Sex workers want consensual adult sex work to be decriminalized.  We demand our right to agency and our labor rights, and we demand discrimination and hate crime legislation.  After we accomplish these goals it will still take several decades for public perception to change and to erase the stigma, as these are the same steps used to gain momentum for LGBT rights.
Gay rights started on St Christopher St in NYC.  It was the transgender sex workers who were tired of being robbed, beaten and raped by the cops so they started "parades" which turned into the "gay rights movement".  Society seems to ignore our history and that it was the transgender sex workers that lead the way to gay rights.
SYLVIA RIVERA'S JUNE 2001 TALK AT THE LESBIAN AND GAY COMMUNITY SERVICES CENTER, NEW YORK CITY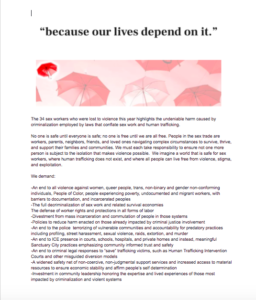 Constitutional Challenge
Through the efforts of the Erotic Service Providers' Legal Education and Research Project, we will be filed a U.S. constitutional challenge on California's prostitution law 647 (b).  (This is similar to the Bedford case in Canada).
9th Circuit oral argument Highlights – a challenge of prostitution law 10/19/2017
ESPLERP vs Gascon (16-15927)
Submission to the United Nations Universal Periodic Review of the USA
.
"It is time to change the social perception that she wasn't a person, she was a "prostitute". No one wants to feel a sense of community or sameness with her. She was something other than us and therefore we don't need to feel fear or grief at the fact or the manner of her death."