June 2st, 2018 International Sex Worker Day Events
Providence, RI
Take Back the Neighborhood: Rally 4 Against Criminalization

Saturday, June 2st 2018, 12 pm to 2 pm

Location: Roger William Memorial Park (282 N Main St, Providence, RI 02903)
For more information contact bella@coyoteri.org
New York:

Time: 2-4 pm on June 2
Location: Christopher Park across from Stonewall Inn
Contact for questions: survivorsagainstsesta@protonmail.com
Chicago:
Time: 12-1:30 pm on June 2
Location: Daley Plaza Chicago Loop at the Picasso sculpture
Contact: LeahLev4@gmail.com
The additional workshop on digital security (for sex workers only) on June 3, details to come soon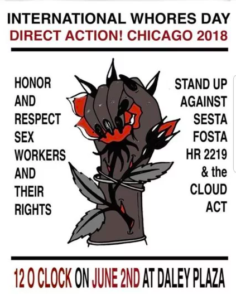 Bay Area ( Oakland CA)
Time: 12 – 4 pm on June 2
Location: Oscar Grant Plaza (14th Street and Broadway, Oakland)
Details: bring signs and friends/allies and wear red!
Contact: arabelleraphael@protonmail.com
Twitter: @BayProsSupport
San Francisco
Protest FOSTA/SESTA / Picket Clusterfest & Anti-Sex Work Comic Amy Schumer!- Saturday, June 2nd, 2018, at 4 pm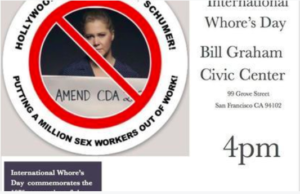 Funeral for the Death of Safer Sex Work on Intl Whores Day – SWOP SEATTLE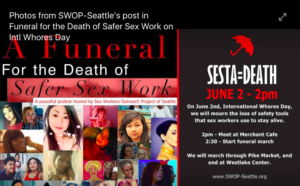 D.C.
Time: 2 pm on June 2nd
Location: Eastern Market Metro station
Organizations:
Las Vegas
Time: 9 am gathering, 10 am begin marching before the rally on June 2nd
Poster Making Social 3:30 to9:30
Ohio- June 2nd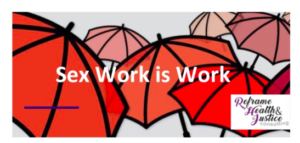 Philadelphia- June 1st
#SurvivorsAgainstSESTA
Philadelphia PA Sex Work Lobby Day 6/1
JUNE 2ND-  FB event page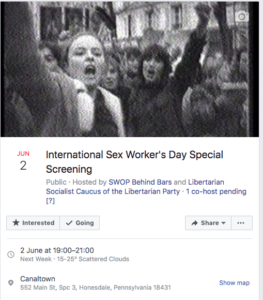 ---
The Sex Ed with Liz Goldwyn, Nina Hartley, and Dita Von Teese May 22st, 2018
Righting Carceral Feminism's Wrongs in a #MeToo Era-March 6th 2018
March 15th, 2018- NY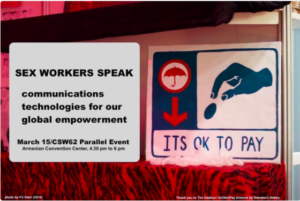 EMPOWER Collective Visiting Philadelphia-  March 12th, 2018
Jill McCracken

and

Alex Andrews from SWOP Behind Bars

 are at AVN in Las Vegas and they stopped in to see

Ramona Flour
at the Chaturbate booth Jan 25th, 2018
At #clpp2017 and sex workers well welcomed and engaged in the reproductive rights movement talking about mass incarceration, motherhood, community and women's healthcare! Knowledge is power!