People Guess Who's a Sex Worker from a Group of Strangers
Impacts of Criminalization on Trafficking
Sex Trafficking Interview with SWOP HQ
NH Rep Elizabeth Edwards, explains harm reduction
Cops ARE having sexual contact during investigations CRIMINALIZE IT!
Sex Worker Immunity – Anchorage Ordinance 84 – CUSP
CUSP ACTivists busy in Alaska – Sex Worker Rights are Human Rights!
"What every sex worker needs is anonymity."
5 reasons why decriminalization is one of the best things governments can do to respect the rights of sex workers.
Sex Work vs Trafficking 2017 from Orange & Osceola Public DefenderBUSINESS
Impacts of Criminalization on Trafficking 2017  from Orange & Osceola Public DefenderBUSINESS
Harm Reduction SWOP 2017 from Orange & Osceola Public DefenderBUSINESS
Sex Trafficking Interview with SWOP HQ from Orange & Osceola Public DefenderBUSINESS
Bella Robinson – Framing the narrative
No Perfect Victims Convening 2017
Criminalized Survivors Panel at No Perfect Victims Convening 2017
Survived & Punished Project
Matisse Introduces Velvet Swing!
One of law enforcement's dirty little secrets
Vida Real: I'm A Sex Worker
Father David Gilmore, St Anne's Church Soho – Rape and Prostitution – A Question Of Consent
Guys, is dressing provocatively in expensive suits whilst having too much much to drink causing you to get mugged? Video here
ACLU's "Freedom Cities" plan brings local grassroots activists together and provides a blueprint for local-level campaigns to defend our communities and block the worst abuses of the Trump administration.
CUSP Public Testimony on SB 54 3-3-17 March 7, 2017
Hat tip to Savannah Sly-   SWOP USA-  Coyote RI- Dedicated to Sex Workers Everywhere, in behalf of International Sex Workers Rights Day– March 3rd 2017
Shutting Down BS with Sex Workers
Know Your Rights When Asked About Immigration Status
Selling Snake Oil: Anti-trafficking Awareness Campaigns by Cristine Sardina  Director, Desiree Alliance
Effective Meetings for Grassroots Organizers!-SWOP USA- Feb 22st- 2017
With Alexandra Lutnick author of "Domestic Minor Sex Trafficking" Feb 2017

January 18th 2017 Bella Robinson, executive director of (Coyote RI ) takes on the NH Criminal Justice and Safety Committee in support of NH HB287  (around minute 56)
Ridiculous Cops Oppose HB287, the Prostitution Study Committee Bill
Rep. Elizabeth Edwards, a Democrat from Manchester, wants to create a study committee to look into decriminalizing sex work. She knows it's controversial.
Subcommittee on Creating Committee to Study Prostitution Decriminalization on January 28th 2017
 SB 1322 CA is not legalizing underage prostitution!- Jan 1, 2017
SCSU sociologist Dr. Alan Brown on sex work By Andrew Stewart on January 25, 2016
Alexandra Lutnick, PhD, on domestic minor sex trafficking–   Jan 8, 2016
N.H. First U.S. State to propose bill to decriminalize prostitution press conference NH HB 1614
Courageous state representative Elizabeth Edwards in New Hampshire has put forth a bill HB-1614 to decriminalize adult consensual prostitution! This unprecedented move inspired dedicated sex worker rights activists to travel to N.H. To speak with state representatives and participate in the hearing and press conferences. Activists representing several sex worker orgs were present. , Bella Robinson of COYOTE Rhode Island and ESPLERP (Erotic Service Providers Legal Education and Research Project) and Phoebe Jones from the Global Women's Strike and Rachel West from the US prostitutes collective, took questions from the press and government officials present. This clip features Bella Robinson, long time erotic service provider and activist.
First-Ever Bill to Repeal Prohibition On Prostitution – Hearing and Press Conference
Published on Jan 30, 2016
Elizabeth Edwards is a Free State Project early mover and elected democrat state representative who has heroically put forth the only proposed repeal of the prohibition on prostitution
Published on Mar 11, 2016
Senator Elizabeth Edwards testimony during the house vote on HB-1614. This is the entire testimony and vote presented on March 10, 2016 during the house session. There were some interesting developments regarding this bill as Edwards points out at the beginning of her testimony. An unorthodox meeting had to be held after documents of a previous vote had been lost. A video record and photograph of the document was not accepted by the committee as evidence of the previous meeting. She notes resistance to the bill by the majority whip before any evidence or testimony had been presented and states "evidence should proceed conclusions". Despite all of this- one could say that the bill almost made it thru, losing by only 7 votes. There were 145 who would have passed it, 152 were against it. That is not a landslide loss by any stretch and is a good sign that with another round and more work, NH could be one of the first states to decriminalize thru a house bill.
We are very grateful to the Senators who carried and supported this bill. It is a courageous and compassionate action.
 NH HB 1614 Action Team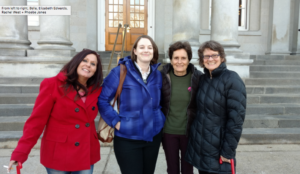 From Left to right Bella Robison (Coyote RI) NH Representative Elizabeth Edwards, Rachel West from the US prostitutes collective and Phoebe Jones from the Global Women's Strike.
Bella Robinson – COYOTE RI – Presenting on sex worker rights at UNH  April 7th 2016
Sharmila representing the Philippines Sex Worker Collective. She speaks on sex worker rights and her experiences working with trafficking NGO's and how it changed her perspective.- Apr 7, 2016
Another fabulous day with my friend, the brilliant Elena Shih and her students at Brown University. I couldn't be more grateful to have been given a platform to shine the light on the harmful effects of the "Trafficking and The Prison Industrial Complex". Thank you, Elena, for your friendship, mentoring and the awesome flowers.
Here is one of the video's the students made for their final project. I will have several more of the student video's soon.
BRIGHT STAR  May 11th 2016
The Last Rescue of Brown University – May 11th 2016
Major props to Emily Schell,  another Brown University student that I had the pleasure of collaborating with this semester.- May 2016  https://decriminalizenow.wordpress.com
SB1110 CA LEAD law enforcement assisted diversion testimony– Jun 29, 2016
OAKLAND POLICE SEX SCANDAL- affirming white supremacy failed policy– Jul 2, 2016
LEAD A DIVERSION from real solution: DECRIM. Cops sexually abusing under FAILED POLICY- July 5, 2016
Maxine Doogan & Julie Bates discuss the struggle for Sex Worker Rights – Decriminalization– July 29, 2016
CUSP ALASKA – immunity for sex workers who are crime victims!- July 30, 2016
Democracy Now DNC 2016 – Failed policy drives people into sex work– Aug 5, 2016
Celeste Guap – police corruption – coercing sex from prostitutes is nationwide issue– Sep 15, 2016
WEBINAR: SEX WORKER-LED OUTREACH– Oct 19, 2016
State sponsored rape – cops legally having sex with sex workers during investigations- Dec 20, 2016
Bella Robinson presents on Sex Workers' Rights at University of New Hampshire November 5th 2014
Toni Mac: The laws that sex workers really want 
I Love Being a Sex Worker!
How police profile & shame sex workers
Former Sex Worker Maggie McNeill on Why We Should Decriminalize Prostitution
Sex Work Stigma HURTS
Sex Work Violence Prevention
'Thinking about sex work as work' by Dr Laura Agustin- 2013